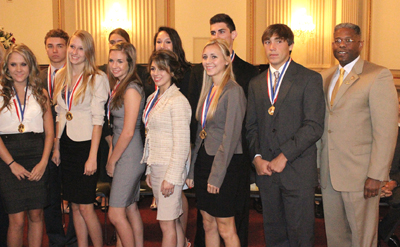 U.S. Congressman Allen West (R-District 22) presented the Congressional Award Gold Medal to six student constituents during a ceremony June 20 at the United States Capitol. Five additional students from South Florida were unable to attend the ceremony in Washington, D.C.
Earning the Congressional Award Gold Medal requires a significant commitment as each student must spend two years completing at least 400 hours of community service, 200 hours of both personal development and physical fitness activities, and a four-night expedition or exploration.
"These students represent the best of the next generation," West said. "It is an honor to present them with this award, an accomplishment they will carry with them for the rest of their lives."
The Florida 22nd District 2012 winners of the Congressional Award Gold Medal are as follows: Heather Klotz, Royal Palm Beach; Christian Dulcie, Palm Beach Gardens; Meghan Fallon, Jupiter; Robert Jacobs, Palm Beach Gardens; Grace Marrero, Jupiter; Allison Wrieden, Jupiter; Hailey Cunningham, Palm Beach; Eric Gfesser, Palm Beach Gardens; Kelly Higgins, North Palm Beach; Pauline Thiemann, North Palm Beach; and Allison Puchferran, Boca Raton.
Klotz's advisor is Shelby Colman, and her affiliations are National Honor Society and People to People International.
"To earn my Congressional Award Gold Medal, I completed over 400 hours of voluntary public service at Animal Care & Control of Palm Beach County, the Vinceremos Therapeutic Riding Center, Royal Manor nursing home and a local homeless shelter," Klotz said. "Because of my love for horses, I most enjoyed working at Vinceremos, where I was able to interact with mentally handicapped kids and provide them with the joy of interacting with the amazing horses. For personal development, I spent over 200 hours learning about art through various art shows, classes and exploring through my paintbrush. I have learned incredible art skills and have found a new appreciation that will stay with me for the rest of my life. My physical fitness hours were accumulated through riding my horse three times a week and continually receiving lessons to be always improving. My horse and I can now successfully jump an entire course of jumps set at 3 feet. Finally, for my expedition, I spent five days and four nights at a nearby nature preserve where I learned about the special animals in South Florida and the plant life that makes up my ecosystem."
Above: Congressman Allen West (right) with recipients of the Congressional Award Gold Medal.