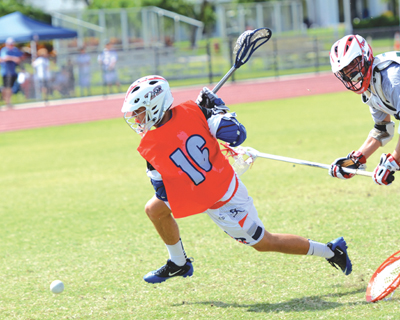 BY GENE NARDI
The second annual Casey Powell Orange Classic lacrosse tournament was held Saturday and Sunday, June 16 and 17 at St. Andrew's School in Boca Raton. A total of 48 teams from Jacksonville to Miami traveled to compete in the two-day event. Teams in the U-9 to high school boys divisions played in a three-game points system to advance to the playoff round for a chance to play in the championship match. Local lacrosse athletes from the community participated in the event as well.
The tournament's namesake, Casey Powell, is a professional lacrosse player who plays for the Hamilton Nationals in the MLL (Major League Lacrosse). He is in his second year with the team. Powell is from the New York area and is a 25-year veteran of the popular sport. Having coached for 14 years, Powell started Team 22. In its second year, the club has grown so much that it has drawn players of the game from all over Palm Beach and Broward counties.
"Lacrosse is actually a Native-American sport that has gained popularity of the years," Powell said. "Lacrosse has received publicity on television since the MLL started in 2000 which has helped the sport tremendously."
The MLL All-Star game will take place Saturday, June 30 at 7:30 p.m. at Florida Atlantic University. Players who started in the MLL from 2001 to 2008 will represent team Old School, and players from 2009 to 2012 will play for the Young Guns. The event also will feature activities and a jamboree-style tournament on campus that will draw many local lacrosse teams for the competition. The all-star game will be televised on ESPN 2.
For more information on the three-day event, visit www.majorleaguelacrosse.com.
Shown above, Tyler Kuhlman of Wellington dives for the ball to regain possession for Team 22.