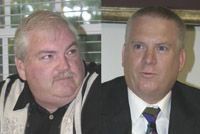 Loxahatchee Groves Water Control District Supervisor Robert Snowball and challenger Roy Parks faced off in a debate May 24 at the Loxahatchee Groves Landowners' Association meeting.
Parks and Snowball will contest Monday, June 25 in the district's first popular-vote election, rather than a proxy-vote system based on one vote per acre. Registered Loxahatchee Groves voters who are also property owners or the spouses of property owners are eligible to vote.
Snowball, a 12-year LGWCD veteran, introduced himself by saying, "Everybody knows who I am."
Parks said he has been a full-time resident and property owner in Loxahatchee Groves for 14 years and is a fifth-generation Floridian. "I was a board member with the Loxahatchee Groves Landowners' Association for about three years," he noted.
Parks has worked as Ibis Golf & Country Club's information technology specialist for the past three years. A former president of the 1,025-home Southwind Lakes Homeowners' Association in Boca Raton, Parks has been a volunteer for Missionary Flights International. His previous background includes work with the South Florida Water Management District.
Parks earned a bachelor's degree in business administration in 1988 and a master's degree in computer information from the University of Miami in 1992. He previously ran for LGWCD supervisor in 2009.
Moderator Dr. Bill Louda asked the candidates what their vision is for district roadways and how to control cut-through traffic.
Snowball said he would like to see all the roads paved with open graded emulsified mix (OGEM). "I like how they look now," he said. "I like no dust. The cut-through traffic is going to be a problem no matter what."
When Parks ran in 2009, he said some people discussed other products that could be used on unimproved dirt roads that also might reduce dust, including a soybean polymer. "Sometimes, well-maintained dirt roads cost less than a paved road," Parks said. "That's back to what the residents desire to have. The thing that's close to my heart, though, is the fairness. We have folks who are paying different amounts for their roads, or maybe getting them for nothing at all, and I know folks who are upset about having such big discrepancies."
On the topic of the LGWCD's role as a drainage utility, Parks said his top concern is keeping water out of residents' homes.
"When Irene came through here, we ended up having a lot of water in our yards that took quite a while to drain off," Parks said. "They have improved the drainage system since that time. We probably do drain better, but we definitely need to maintain our water drainage and keep our canals maintained."
Snowball said the district's nine-year canal rotation plan effectively takes care of proper drainage. "We have no trees and silt built up in the canals," he said. "However, if we don't keep doing the maintenance on those canals, we're going to have the same problem again."
Louda invited candidates to speak about all aspects of their life in Loxahatchee Groves.
Parks said he has participated in road cleanups, cookouts and other activities, and that he knows many residents. However, when he ran in 2009, it was a proxy election. "It was a small landowner against someone who had a lot of proxies," Parks said. "I hope to do much better this time."
A 15-year resident, Snowball noted that the job of LGWCD supervisor is not a social position; it's a functional, policy-setting role.
"Obviously, everybody knows I've been doing this for 12 years, a job nobody wants," he said. "You're up there as a representative… you're listening to what [people] say and applying common-sense answers and solutions."
Louda asked candidates how the district and town can work together to enact the stringent water pollution abatement measures being mandated by the federal government.
Snowball said the district administrator is working on that, but that the solution will be having the money to do it. "We do not have the money that that is going to take," he said. "Sooner or later, the South Florida Water Management District has told us we have to have it. It's not a matter of if — it's when."
Parks said that during droughts, the district must pump a lot of water in to maintain canal levels. "Our elevation here is higher than the surrounding communities, so we end up feeding our water back out to Royal Palm Beach and other areas. If we had a fire out here, we'd be in trouble if we can't keep our canals with a decent level. Fortunately, we do have some fire hydrant systems in the center of the Groves."
Louda pointed out that this will be the first election by qualified electors, as opposed to one-acre/one-vote, and asked each candidate to give his viewpoint on the new method.
Parks said he has been interested in having a popular vote for a while. "I'm very thankful to be able to be a candidate," he said. "I think we should have at least another seat available to the general voters here."
Snowball said he doesn't like the new method because he thinks "a lot of people out here [who] actually own lots… are going to be cast aside. I don't think that's right."
With many state agencies looking at drastic cutbacks, Louda asked about possible privatization of services to reduce costs.
Snowball said he thought the LGWCD has done a good job holding down costs. "I don't think you're going to accomplish anything bringing in outsiders who don't care about what's going on here," he said. "The guys we've got care about what's going on. I think we should reward them and continue on and let them work."
Parks said that before his current position, he worked for a staffing company that offered corporate benefits to employees in small businesses. "It was really a good deal for both the employer and the employee. I'm not saying to eliminate positions, but you may find other avenues of staffing those positions that are mutually beneficial."
Finally, Louda asked the candidates for their thoughts on whether the LGWCD should become part of the town government or stay independent.
Parks said he thought the town right now is going through challenges of its own that put it in a bad position to merge. "I don't see any time frame within the next five years," he said. "At this point, I don't see the town and district becoming one entity."
Snowball agreed. "Sooner or later, it is going to become [the town's] water works," he said. "It's the natural progression toward it. Right now, the town and the council have made it very clear that they are not ready. They would like the five board members to keep moving along, and right now we are working great together, and we are getting things done."