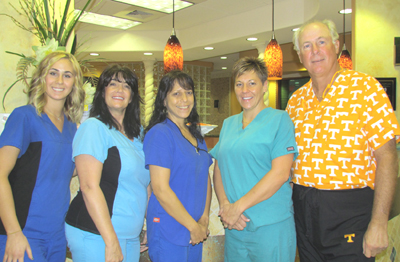 The Wellington Centre for Oral & Maxillofacial Surgery is a state-of-the-art facility. Dr. Michael Mauck took over the practice 21 years ago, and he has been expanding ever since.
In 1986, Mauck received his medical degree from the Medical College of Virginia School of Dentistry in Richmond, Va. "I then went to Jackson Memorial Hospital, where I did my oral and maxillofacial surgery training, and I did a year of anesthesia training as well there," he said.
Mauck worked for a private practice on Miami Beach at Mount Sinai for five years. He then moved to the western communities in 1991 and took over the practice after its founder died in a tragic accident.
"My roommate was killed in a small plane crash," Mauck recalled. "He was Dr. Mark Wein, and he started the practice in 1988."
After the accident, Mauck decided to visit Wellington with his wife-to-be Sherri, and they fell in love with the area.
"We liked the community, and loved the people in the area," he said. "So I bought the practice from the estate and moved here in July of 1991."
When Mauck first bought the practice, it was located in the Wellington Professional Center, the first building built at the corner of Forest Hill Blvd. and State Road 7.
In 2006, the Wellington Centre for Oral & Maxillofacial Surgery relocated up the road to the Wellington Reserve at 1051 State Road 7, Building G, Suite 1.
"We do 99.5 percent of our surgeries here," Mauck said. "I built the office that way. In the back, I have a mini operating room, where we can pretty much do everything."
Mauck also works out of Palms West Hospital for surgical procedures such as facial fractures, head traumas and to work on patients who have major medical issues and need intense treatment.
"That's the extent of what I do at the hospital," Mauck said. "The majority of our surgeries are done here at the center, where we make our patients feel as comfortable as possible."
Some of the other procedures done at the Wellington Centre for Oral & Maxillofacial Surgery include dental implants, fractures, trauma and extractions mostly on wisdom teeth, which is the practice's specialty.
"My new associate, Dr. Christian Rouleau, has done a cosmetic facial fellowship," Mauck said. "He does plastic surgery procedures from face lifts to eyelids."
Most of the patients who come to the Wellington Centre for Oral & Maxillofacial Surgery usually have a pain in their tooth from a failed root canal or an abyss in their tooth from an infection.
"Most of the time we are taking out teeth," Mauck said. "We also have our younger kids, who come in to take out their wisdom teeth."
At the office, the patients are sedated and the wisdom teeth are removed. "That is about 60 to 65 percent of what we do," Mauck said. "But we also see babies for things like frenectomies, where their tongue is tied."
The practice also does biopsies on patients with a need for that service, and dental implants are another common procedure.
Over the years, Mauck has added two other oral and maxillofacial surgery practices, one in Boca Raton called the Boca Oral Maxillofacial Surgery Center and the other one in Lake Worth called Mauck Oral & Facial Surgery Center.
For more information, visit www.drmauckomfs.com or call (561) 790-0206.
Shown above are Wellington Centre for Oral & Maxillofacial Surgery's Monica Pazos, Jeanne McMahon, Felicia McEnery, Tami Hatfield and owner Dr. Michael Mauck.