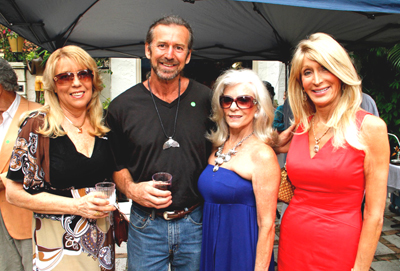 Nancy Marshall, president of the Arthur R. Marshall Foundation, said that more than 100 supporters attended a reception June 5 at Via Flora in Palm Beach. The festive event included live music by steel drummer Ed Stephen, courtesy of Marshall Foundation Advisory Council Member Paul Suschak.
"This was the first of several social events that the Marshall Foundation will be hosting this year in Palm Beach, culminating with our seventh annual River of Grass Gala, which will be held on Saturday, Dec. 8 at the Colony Hotel Pavilion," Marshall said. "I'm pleased to announce that at the Via Flora Happy Hour, we raised several thousand dollars to help fund our critical education programs."
River of Grass Gala Committee members Phyllis Verducci, Barbara McDonald and Linda Wartow hosted the happy hour reception.
Based in Palm Beach County, the Marshall Foundation champions the restoration and preservation of the greater Everglades ecosystem through science-based education and outreach programs.
Annually, more than 25,000 elementary and high school students in Palm Beach County actively participate in the Marshall Foundation's various education programs.
Founded in 1998, the nonprofit organization has in recent years awarded more than $450,000 in scholarships and internships, planted nearly 100,000 native Florida trees in wetland areas, and involved more than 5,000 volunteers in hands-on restoration projects.
For additional information about the Marshall Foundation, call (561) 233-9004 or visit www.artmarshall.org.
Shown here are Dia DeVary, Norm Gitzen, Linda Marchese and Ann Zobel.