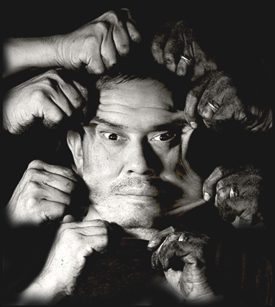 The Clay-Glass-Metal-Stone Cooperative Gallery in downtown Lake Worth is hosting an invitational art exhibit organized by the Dixie Art Loft. Titled "Oddity of the Artist," the show opens Friday, June 15 at 6 p.m. and will continue through Saturday, June 30.
Longtime art exhibition partners Betty Wilson and Linda Manganaro have accepted the works of more than 35 local artists for this show. All works reflect the theme of "Oddity of the Artist." All works are for sale.
Clay-Glass-Metal-Stone Cooperative Gallery has been inundated for a long time with requests from local artists to exhibit their works. Because it is a 3-D gallery, many visual artists have been turned away for not fitting the criteria. It became apparent that more venues were needed for artists to show their works. The gallery will open its doors once each month to provide that opportunity. Each exhibition will last 10 days and feature the wide wealth of talent Palm Beach County has to offer.
"Oddity of the Artist" is left to the interpretation of the artist. Although some consider all artists a bit odd, artists themselves are often taken with the complexities of life and their surroundings, giving nuanced interpretations to all they create. What is one artist's oddity is another's reason for being. Expect outrageous interpretations of the theme.
July's call to artists will be titled "The Naked Truth." To apply for this show, contact Betty Wilson at the Dixie Art Loft at potteryme@aol.com.
Clay-Glass-Metal-Stone Cooperative Gallery is sponsored by the Flamingo Clay Studio, a nonprofit arts organization whose mission is to provide affordable studio and gallery space for three-dimensional artists. The gallery is located at 605 Lake Avenue in downtown Lake Worth. Hours are 9 a.m. to 1 p.m. Sunday through Tuesday and 9 a.m. to 9 p.m. Wednesday through Saturday. Gallery openings are held the first and third Friday of each month from 6 to 9 p.m. with many special events in-between. For more information, call Joyce Brown at (215) 205-9441 or jclay6@aol.com. The gallery phone number is (561) 588-8344.
 Shown above: A photograph by Durga Garcia.