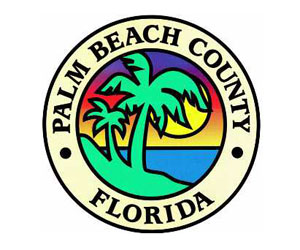 Palm Beach County is one of the best prepared counties in the state for hurricane season, according to officials who gave an update about the 2012 storm season to the Palm Beach County Commission on Tuesday.
Assistant County Administrator for Public Safety Vince Bonvento said the county's emergency management program has received numerous awards.
"We are recognized as one of the most proactive emergency management operations in Florida, and we definitely are a leader in the state," he said. "We've had emergency management directors from all over the country come and visit us."
Bonvento recognized Emergency Management Director Bill Johnson, who was selected outstanding emergency management director in Florida at a recent conference in Fort Lauderdale.
FEMA, the Federal Emergency Management Agency, requires all management staff be certified by the National Incident Management System (NIMS). This requires participation in numerous classes, and Bonvento noted that Palm Beach County once again leads the state.
"Ninety-five percent of senior managers are NIMS-certified," Bonvento said. "That's really an outstanding achievement. It's one of the highest in the state, so we're very proud of that."
Johnson noted that FEMA had upgraded the county's rating from Class 6 to a Class 5 rating, which will save county residents $4.5 million in annual insurance premiums, an average of $120 per household, which is more than double the Division of Emergency Management's draw on ad valorem taxes. He pointed out that Palm Beach County is among only nine communities in the United States with a rating of five or better.
The emergency management department has also made some dramatic improvements to its web page, which describes some new programs it has unveiled to the community.
Among the updates for this season are new emergency evacuation zones based on new technology, including laser-guided topography maps and surge modeling from the National Hurricane Center.
"We've been able to create better and more accurate surge modeling, and therefore we've gone from two models last year to five this year," Johnson said, explaining that the models are on the web site at www.pbcgov.com/dem/evacuate.
The zones are closely related to storm categories, naming them by letter rather than number because the amount of surge is determined by more variables than just the strength of the storm.
"It becomes very important for every individual to know which part of the zone they reside in," he said.
The department has also developed a phone application it will release soon called the Disaster Assessment Resource Tool (PBCDART), which is available for the iPhone and will be available soon on Android and Windows mobile operating systems. It will have the capability to determine whether the person holding the phone is standing in an evacuation zone, where the nearest shelter is and whether it is open, Johnson said. The application will also be able to identify damage to property after the storm. Plans are underway to expand the functionality of this tool.
The updated web page is simplified to focus on three basic audiences: citizens, businesses and partners. It is also linked to social media, including Facebook and Twitter.
"It includes all of our other technologies, as well as all of our resources to help our community plan for and prepare for a hurricane," Johnson said.
The web site includes all the maps produced by the division, as well as shelter maps and maps of gas stations and grocery stores that are equipped with emergency generators, as well as home repair stores.
"We believe that our web site now has become very robust and a helpful resource for our community," he said.
The forecast for 2012 predicts between nine and 15 named storms, with four to eight reaching hurricane strength and one to three being intense hurricanes, Bonvento said.
"We're still making numerous presentations to the community," he said. "Our message that we try and present to the community is very simple: have a plan, be prepared and be informed."
Commissioner Karen Marcus stressed the importance of the county to coordinate its emergency management with municipal emergency operating centers, pointing out that more of the cities are forming their own EOCs and that a recent exercise in north county might not have had as much county participation as it should. Bonvento said the individual EOCs do tie in with the county during emergencies.
Commissioner Steven Abrams agreed with Marcus, saying that many of the municipalities have greatly improved their own EOCs. "They've beefed them up to where they could be a great assistance to the county, but also likewise, we need to be in coordination with them," he said.