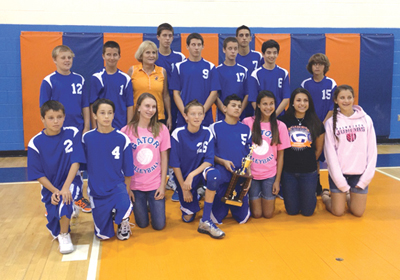 The Wellington Landings Middle School boys volleyball team recently finished their season 13-0 to win the Palm Beach County Championship for the second consecutive year. The Gators played previously undefeated Palm Springs, and the score was 25-18, 25-18.
Outstanding blocking and hitting by eighth-graders Richie Ellis and Richie Green were crucial in the win. The defense was led by Ethan Shinn, Anthony Grnja and Giani Forgione.
Outside hitters Logan Peluso and Adam Aqua added hitting and serving power. The game MVP was setter Christian Shinn, whose leadership and athletic dominance were instrumental in the win.
In the past eight years, coach Maureen Witkowski has led the Gators to five Palm Beach County championships.