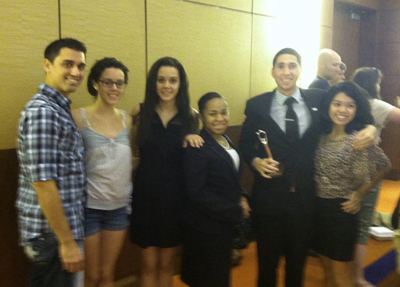 The Royal Palm Beach High School speech and debate team competed at both national tournaments against thousands students from across the nation with outstanding results. Again, the Wildcats rose to the top of ranks in the district, state and nation.
At the National Catholic Forensic League Grand National Tournament at Baltimore, Md., the following students placed among the top in the nation: Anthony Nadeau, Octo Finalist in Oral Interpretation; Delisa Stephenson, Octo Finalist in Dramatic Performance; and Luis Hernandez, Quarter Finalist in Dramatic Performance.
At the NFL Championship Tournament at Indianapolis, Ind., the following students who qualified from the district placed: Luis Hernandez, Top 60 in Dramatic Interpretation, and Delisa Stephenson, Top 30 in Dramatic Interpretation.
Shown above, RPBHS speech and debate team members celebrate their victories.