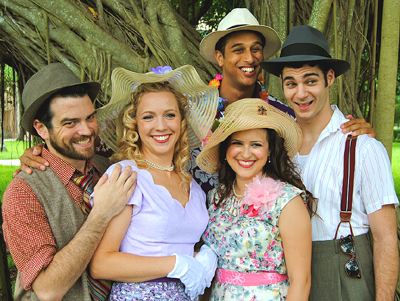 Florida Atlantic University's department of theatre and dance presents the opening of William Shakespeare's Love's Labours Lost on Friday, June 29 at 7 p.m., with shows running through Saturday, July 21. The play is in FAU's Studio One Theatre on the Boca Raton campus at 777 Glades Road.
The FAU production of Shakespeare's Love's Labours Lost is set in Key West in the 1920s. In this upbeat and funny story, four young men resolve to give up wine, women and song, but their resolve is tested. "The play is wildly silly and is a perfect vehicle for a summer of fun for the whole family," said Jean-Louis Baldet, director and FAU professor of theatre.
The Shakespeare play is part of FAU's Festival Rep, which also includes Showtune: A Jerry Herman Music Revue and a Big Band Jazz Concert.
The revue will include favorites by Jerry Herman including music from Mame, Hello Dolly, Mack and Mable, La Cage Aux Folles, and many others. And on July 28, the FAU all-Florida college jazz band will present an evening of hits from the 1930s, '40s and '50s. Authentic music of big band sensations like Count Basie, Duke Ellington, Glenn Miller and Benny Goodman will fill the air.
Festival Rep is now in its 26th year and will once again feature professional actors working alongside FAU's finest graduate students in their last productions before they graduate and enter the world of professional theater. The professional actors are Laura Wayth, Kathryn Johnston and Terry Cain. Wayth has performed locally at the Caldwell Theatre and the University of Miami. Johnston has appeared at Caldwell Theatre, New Vista, New Theatre and Gablestage. Cain has performed at Royal Palm Dinner Theater, Actor's Playhouse, Hollywood Playhouse, Stage Door Theater and Florida Grand Opera.
Single show tickets cost $20, group tickets for 15 or more cost $14, and the cost is $12 for students with a student identification card, and $16 for FAU faculty, staff and alumni. Package prices for all three shows are available for $35. To purchase group or package tickets, call (561) 297-2471. To purchase all other tickets, call (800) 564-9539 or visit www.fau.edu/festivalrep. Free parking and shuttle service are available for all shows.
Festival Rep patrons can receive discounts on dining when they present their show tickets at the Living Room Theaters Restaurant, located next to the theaters. For information, visit http://fau.livingroomtheaters.com.
All proceeds from the Festival Rep productions benefit student scholarships in the department of theatre in FAU's Dorothy F. Schmidt College of Arts and Letters. The shows are made possible with support from Bank of America, the Palm Beach County Cultural Council and the Sun-Sentinel.
A full schedule of FAU's Festival Rep, as well as directions to the theater, can be found online at www.fau.edu/festivalrep.
Above: Cast members (front row, L-R) David Meldman, Audra Yokley, Lynn Wilhite and Alexander Salup; (back row) Darrick Penny.