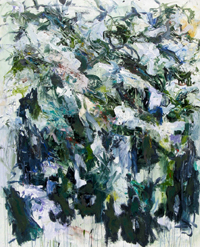 The Palm Beach County Cultural Council, the official arts agency that serves nonprofit cultural organizations and professional artists throughout the county, is presenting two solo exhibitions, a collection of original works by Palm Beach County artists Nathan W. Dean and Alyssa di Edwardo. The exhibits run now through July 7 and are on display in the cultural council's exhibition space at its new headquarters, 601 Lake Ave. in Lake Worth.
Dean's series "The Art of the Image" is a sample of the artist's original photographic works. "My images aim to show the essence of what I see, reduced to its simplest elements, uncluttered by distraction," said Dean, a resident of Delray Beach.
His photographic works have been featured in several exhibitions throughout Palm Beach County. "They reveal my passion to capture the magic of light and the mystery of shadow, and to use them to arrest the eye and intrigue the mind," he said.
Dean started his career in science as a professor of physics at Iowa State University and went on to hold posts as vice president for research at the University of Georgia and vice president for graduate studies and research at the State University of New York. From 1993 to 2006, he served in various executive posts at Florida Atlantic University including dean of science, vice provost and vice president.
Di Edwardo, a resident of West Palm Beach, has exhibited her work in various spaces, and her paintings are in some prestigious collections. Her collection of paintings of gestural brush strokes and highly textural palette give the viewer a feeling of intense movement.
Most recently, di Edwardo was selected by juror Valerie Leeds, adjunct curator of arts at the Flint Institute of Arts in Michigan and former curator at the Whitney Museum of American Art, New York, for the 60th annual All Florida Juried Competition Exhibition at the Boca Raton Museum of Art. Among her accolades, di Edwardo was recognized by her election into the registry of the National Museum of Women in the Arts in Washington, D.C.
Rena Blades, the cultural council's president and CEO, said solo exhibitions are one of the ways the council focuses on its mission to help promote the careers of local artists.
"Solo exhibitions, offered to members of the council, offer unique opportunities for professional artists in Palm Beach County giving them the chance to exhibit their work and build their resumes," Blades said.
Artists interested in learning more about the Palm Beach County Cultural Council's solo exhibitions are asked to contact Nichole M. Hickey, the cultural council's artists' services coordinator, at (561) 472-3336 or nhickey@palmbeachculture.com.
The Palm Beach County Cultural Council is now located in the historic Robert M. Montgomery Jr. building at 601 Lake Ave. in downtown Lake Worth). The 12,500-square-foot building contains galleries for exhibitions, the Uniquely Palm Beach Store, tourism services, and education and training facilities. It is open to the public Tuesdays through Saturdays from 10 a.m. to 5 p.m.
The Palm Beach County Cultural Council's responsibilities include marketing the county's cultural experiences to visitors and residents, administering grants to organizations and artists, expanding arts and cultural education opportunities, advocating for funding and arts-friendly policies, and serving cultural organizations and artists through capacity building training and exposure to funders and audiences. For more information, visit www.palmbeachculture.com.
Shown above: A mixed-media piece by Alyssa di Edwardo.