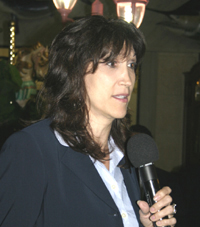 Palm Beach County Inspector General Sheryl Steckler said last week that there has been a definite upswing in the number of complaints her office is receiving regarding activity in the county's municipalities.
Steckler was the guest speaker at County Commissioner Jess Santamaria's monthly public forum meeting held Wednesday, June 20 at the original Wellington Mall.
Steckler focused on how many municipalities are putting out contract renewals without using the request for proposals (RFP) or request for qualifications (RFQ) process to seek new bids.
"I just wanted to go over some of the reports that we have issued since January," she said. "We're getting a lot of contract renewals in many of the municipalities, and what we're finding in several of them is that they are basically not putting them out for bid."
Delray Beach was the most recent municipality in the spotlight when it failed to issue an RFP for its waste-hauling contract, currently held by Waste Management. By not seeking new bids, it raises the question if taxpayers are "getting the best bang for their buck," Steckler said.
Some municipalities are even at the 30-year mark with some contractors, at which point by law they are required to conduct a competitive bid. "Once you hit 30 years, which is an awful long time, you would think they would do it more recently," she said. "Actually, the county does it every five years, but we're starting to see that where they do the competitive bids, or where suddenly they're at least talking, the rates are going down in the municipalities, so something is working. Maybe not the cleanest way we want to see it, but at least suddenly our waste disposal companies are starting to pay attention that maybe they are charging too much."
Steckler's office put out a report on Delray Beach that officials were not putting services out for bid even though their policy said they were supposed to. "They violated their own policy, and we told them to re-look at it," she said.
The item had been on a February agenda and they pulled it, she said. It was on the agenda again this month, when a resident alerted Steckler's office. "There were some of us present during the meeting, and it was immediately withdrawn from the agenda," she said.
Steckler said that should be a message to the municipalities that the citizens are watching. "They are our eyes and ears, and hopefully, they'll do the right thing," she said.
She also discussed an incident in Palm Beach Gardens, also regarding a trash contract. "This one is pretty egregious," Steckler said. "What they said in March was that they would take the final in May, so that if anyone wanted to talk about it, they would have that opportunity in May. Well, instead, in April… they added it to the agenda, it was the last item on their agenda, and they voted for it without a competitive bid… The next day the city manager signed that contract."
Steckler said that was a lack of transparency, but that it was not a Sunshine Law violation because the laws are not strong in that area. "But it wasn't transparent to the public and to those who were interested in bidding on that contract," she said. "We wrote about that so that the citizens of that city would know the behavior and the attitude of what's happening there."
Her office recently turned its attention to the jail expansion project when they noticed a large number of change orders. "This is a huge, huge project, lots of money, and when you have millions and millions of dollars, you really need some good oversight," Steckler said.
She said the county normally does a good job of that, "but that doesn't mean there aren't things that are missed."
One particular contract was troubling because the contractor hired an individual to be brought across the state because he was specialized in that area, and they wound up paying his travel and per diem and relocation expenses, and there were no receipts.
"That's a problem, especially when the contract says you have to audit," Steckler said. "Well, how can you audit when you have no receipts? The contract said they get paid by lump sum. What we did in this situation is we made some recommendations: one, that they shouldn't be having these lump sums without proper documentation; and, two, the construction manager is actually responsible for actual oversight. So, we're asking the county to try to get some of this money back."
She said there will be more reports on the jail project. Copies of all the reports by the Office of the Inspector General are posted at www.pbcgov.com/oig.