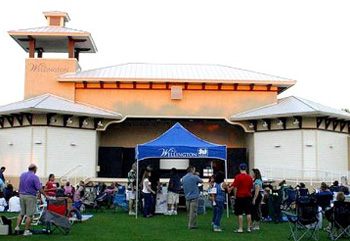 Calling all talent — Wellington wants to make you a local star! The village is seeking Palm Beach County residents to show off their talent for a chance to win $500 and a scholarship to attend a national talent convention.
Amateur performers will have a chance to win as part of the Wellington Talent Search, which will be held at the Wellington Amphitheater.
The overall winner will take home $500 and a scholarship to attend a convention hosted by Talent Inc., valued at $1,950. One runner-up from each category will receive $250.
Wellington is calling for not only singers and dancers, but also magicians, musicians, comedians, thespians and even those with talent so unique it can't be categorized.
"We know that there are a lot of people out in the community who have talent other than singing or dancing," Cultural Programs & Facilities Manager Joe Piconcelli said. "We wanted to give them an avenue to showcase their talents."
Piconcelli said that the idea to expand Wellington's horizons to include other acts came when a resident whose child was an instrumentalist contacted him about Wellington Idol.
As in the popular television show America's Got Talent, participants are welcome to audition with wacky or off-the-wall talents, so long as they are family-friendly.
"You're required to submit a DVD or YouTube video," Piconcelli said. "So we will be screening the acts to make sure they are appropriate for families before they go to the live auditions."
Participants must be 8 or older by June 30 and live in Palm Beach County, Piconcelli said.
Performances may be by single participants or a group, and rather than having age divisions, each act will be classified by type of performance.
"We're going to have categories for singers and groups, dancers and troupes, scenes and monologues and other, which could include instrumentalists, comedians, magicians or anything else," Piconcelli said.
Wellington is accepting applications through the end of the month, with auditions and live performances to kick off in July. More information is available by visiting www.wellingtonfl.gov.
Applications can be dropped off at the Wellington Community Center (12150 W. Forest Hill Blvd.) and must include an application fee of $25 per individual or $50 per group, along with either a CD or DVD or link to a YouTube video featuring the intended performance.
Like the television show, Wellington Talent Search will feature live auditions featuring the top 100 acts.
"We know not everyone will make it to the semifinals and the finals," Piconcelli said. "But this gives the community a chance to show us what they can do."
A panel of judges will pare the acts down to the top 24, who will then perform for a chance at the finals. The finals will feature the top 12 acts and be broadcast live on Channel 18.
Piconcelli said that the talent search is another way for Wellington to offer great community entertainment starring standout talent from the area.
"It's a way to let students and other members of the community get up on stage and perform," Piconcelli said. "There is so much talent in our schools and local organizations, and we want to show it off."