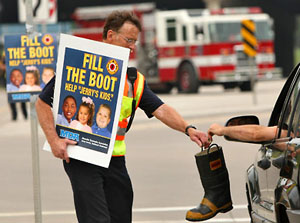 The Wellington Village Council unanimously rejected an ordinance Tuesday that would have barred anyone from standing in local medians except when crossing the street.
Billed as a way to keep streets safer, the measure would have prevented people from walking along the median to advertise goods or solicit cash from motorists. Those violating the ordinance could have been slapped with a $500 fine or 60 days in jail.
But about 50 residents came out to oppose the measure, urging council members to create an exception for firefighters, who often collect money for charities such as the Muscular Dystrophy Association.
Councilman John Greene asked what prompted the ordinance, wondering whether it was due to panhandlers. "Is there some specific incident that prompted this?" he asked. "What is driving this ordinance?"
Deputy Village Manager John Bonde explained that though panhandling is a concern, the bigger concern is for public safety. "We've also seen children in the intersections," he said, noting that sometimes the children are associated with local sports teams.
Bonde told council members that having pedestrians in the median poses a safety hazard but that the ordinance would not impede free speech.
"We believe this strikes a balance between public safety and the public's right to free speech," he said. "We believe this will provide us with safety. We're going to make every attempt to make sure that First Amendment rights are not infringed upon."
Mayor Bob Margolis noted that safety has often been a concern with local fundraisers.
"Time and time again, I've noticed kids in the median, or walking in between cars holding up their signs," he said. "It's a really dangerous situation. I think this is the crux of the ordinance — taking children out of harm's way."
Margolis noted that the ordinance would not prohibit fundraising from the sidewalks.
"Any of those teams or associations can still do what they have done before," he said. "They just have to do it on the sidewalk."
Bonde noted that without an ordinance, it is difficult for members of the Palm Beach County Sheriff's Office to enforce anything.
But Councilman Matt Willhite was concerned that the penalties were too severe, especially for teenagers.
"If a 14- or 15-year-old is out there advertising a carwash, and he steps into the road, a deputy could put him in jail for 60 days," he said. "I don't know if there is a provision in this that there could be a warning. I understand we have to be reasonable, but you can't always control those kids."
Village Manager Paul Schofield said that penalties are necessary for PBSO to enforce the ordinance. "Absent the fining and imprisonment, it's not enforceable," he said.
PBSO District 8 Capt. Jay Hart said that it is a safety hazard to have people in the median and in the streets. "It's very dangerous because they don't stay on the median," he said. "They walk in between the cars."
Bonde noted that there are state laws that regulate similar behavior. "There is a state statute that requires people stay out of the lanes of traffic," he explained. "It's called obstructing traffic. You can't stand in a lane of travel."
But this method of fundraising is key for some groups, such as the firefighters, who often walk along the median with a boot collecting for charity.
Several Wellington residents, as well as representatives from the Muscular Dystrophy Association, said that the ordinance would hamper their fundraising.
"I don't have an issue watching firefighters walking back and forth in the median collecting money because I know it goes to saving lives," resident Guillermo Rivera said, noting that his son suffers from muscular dystrophy. "I think that, given those circumstances, it would be reasonable to ask that the council consider making an exception for certain groups, including firefighters. These are trained professionals who understand safety procedures."
His wife, Milagros Rivera, agreed. "It takes a village to raise a child," she said. "That's why we moved to Wellington. We chose Wellington because of the family atmosphere. The firefighters are really important to us. They've raised a lot of money not only in Wellington, but across the U.S., to help raise funds for muscular dystrophy."
Brandy Miller with the Muscular Dystrophy Association said that the ordinance could affect families. "The International Association of Firefighters has been collecting funds for adults and children suffering from neuromuscular diseases since 1954," she said. "They have raised funds over the years to help families that live right here in the community."
The money, she said, helps pay for the patients to visit neurologists, funds support groups and also funds research. It even helps send children to a special MDA summer camp.
"Really, the importance of the Wellington firefighters to be able to go out to the intersections and collect has a huge impact on the community," she said.
But Village Attorney Jeff Kurtz said that the ordinance loses its teeth if exceptions are made. "I know of no case that says that firefighters are more qualified than any other competent adult to stand in the median," he said. "If you carve out exceptions, it will probably make this unenforceable."
Willhite said that Wellington could model its rule after Royal Palm Beach's, which has a permit process for groups.
"We just want to know that people are out there being managed and being safe," he said. "We don't want organizations coming in and taking money that goes somewhere else that doesn't benefit our community."
Other council members agreed that safety is a concern but ultimately decided that the ordinance could impede fundraising efforts.
"I don't support this ordinance, but it's not an easy decision," Vice Mayor Howard Coates said. "There is some trepidation involved. I do believe in groups' rights to fundraise, and I believe this ordinance would have a profound effect on that."
Councilwoman Anne Gerwig made a motion to reject the ordinance, which carried unanimously.
Above: The Muscular Dystrophy Association annual boot drive by firefighters was one of the key issues that led Wellington officials to drop plans to prohibit people standing on medians.