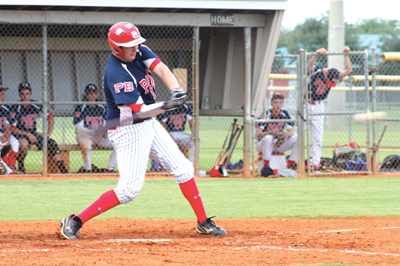 The American Legion Post #12 18-U baseball team has a rich history in Palm Beach County. For the past two years, the team has recruited some of Wellington's best and brightest players, and recently earned the distinction of being district champions.
Formed in 1932, Post #12 has earned more state championships than any other team in the state, head coach Fred Manriquez told the Town-Crier.
"There is a rich history," he said. "Everywhere I go, when I wear a Post #12 shirt or hat, people recognize the team."
At one point, American Legion baseball was one of the only options for kids to play outside of school. Team Manager Richard Kramer said that prominent members of society grew up playing with the organization across the country.
"Before there were travel teams, the American Legion created this program so that kids would have somewhere to go when school was out," he said.
Over the years, Kramer said, the organization has not only launched great ball players, but also great citizens.
"Many players have attended college on scholarships or played professionally," Kramer said. "We are dedicated to the boys on our team and not only try to make them better players, but also better people."
Similar to travel teams, players must try out — typically in January — and play both in local and national tournaments.
Post #12 players are drawn from the local community.
"They have to go to school or live in the Wellington area," Manriquez said.
Kramer noted that many of the players are standout players on the Wellington and Palm Beach Central high school teams.
Team members include Jacob Aqua, Kevin Aubry, Timothy Becker, Colton Coates, Niko Dellapenna, Mitchel Evelyn, Zach Gerboc, Kaelan Jacobs, David Koos, Brandon Krock, James Lovett, Alex Maxson, Shawn Murray, Kyle Perkins, Austin Spitz, Spencer Stockton, Jared Tosner and Andrew Zipp.
The organization also hosts its own World Series, which Post #12 is hoping to attend this year. Manriquez said that they have a good chance.
"We are district champions for the second year in the row," he said. "I think we have a good chance [at the World Series]. We have a great defense, a great pitcher, and we just have to make sure we're hitting well. If we pay attention to the details, I think we can do it."
Post #12 defeated Boynton Beach 2-1 on Thursday, July 12 to win the district championship tournament. The team goes on to the state championship July 26-29 in Fort Pierce.
Above: Brandon Krock takes a swing at the ball.