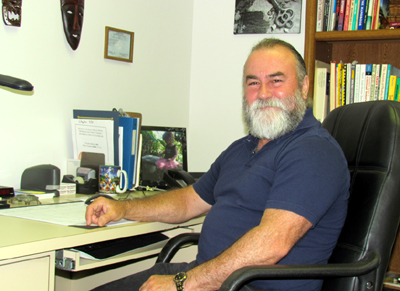 When there is nowhere else to turn, the Banyan Group is there to assist with a variety of counseling services. With five locations throughout Palm Beach County — including ones in Royal Palm Beach and suburban Lake Worth — the agency has eight to 10 therapists and two psychiatrists available to help.
Founded in 1990, the Banyan Group is the vision of owner and founder Richerd Whittemore, a licensed clinical social worker with over 25 years of counseling experience.
Whittemore began his career in Michigan, where he counseled foster-care children. "These children were thrown out of foster care for the most part," he said. "Then I worked as the director of the Youth Services Bureau, court referee for probation, mental health worker and school social worker."
After receiving his master's degree in social work from Western Michigan University, Whittemore moved to Florida, where he worked for companies such as the Comprehensive Alcoholism Rehabilitation Programs (CARP) and the Haven. After several years working for other organizations, Whittemore decided to open his own counseling center.
Whittemore was motivated to start the Banyan Group because of the lack of uniformity and simplicity in counseling agencies and services. "I've been through many agencies that make it difficult for patients to get access to care," he said. "There are many types of policies and loopholes that patients have to go through just to receive care."
With the Banyan Group, Whittemore's goal is to make the lives of his patients easier when it comes to care. "I wanted a simple and easy functioning agency, and I knew if I ran one, I could do it," he said.
The Banyan Group offers a variety of experienced therapists.
"When I hire therapists, I look for every specialty I can find," Whittemore said. "I have therapists who work with children, adolescents, adults, marriage, substance abuse, geriatrics, chronic mental illness, and many other different types of areas."
The psychiatrists work at the Lake Worth office, and the therapists rotate between the five locations. "This way I can get services to any office very quickly," Whittemore said. "What that means is that if somebody in Palm Beach Gardens needs someone to work with their child who has ADD, I say yes, because we can easily send a therapist to that location who can work with them."
The Banyan Group works with children as young as 3 years old. "Anything below 4 and 5, we are dealing with mostly parental work," Whittemore said. "How to deal with your kid, and especially with autism, they start very young."
When dealing with adolescents, the counseling sessions become more personal and confidential. "If we are working with a child who is 12, there is a level a confidentiality with what that adolescent tells me, so no, I'm not going to tell a boy's mom that he kissed a girl at school," Whittemore said.
The counseling sessions are for 50 minutes. "The therapists sometimes go over, especially if they have to fish something out. So we are not going to kick somebody out just because we got to 50 minutes," Whittemore said. "The typical response for someone who is going for counseling is that they are not going to bring out the big one until 10 minutes before the session is over."
The Banyan Group has locations in suburban Lake Worth, Royal Palm Beach, West Palm Beach, Palm Beach Gardens and Boca Raton. The counseling sessions are on a pay-as-you-go service, and only PPO insurance plans are accepted.
The Banyan Group's Lake Worth office is located at 3898 Via Poinciana Dr., Suite 13. For more information, call (561) 967-2566 or visit www.banyangroup.com.
Above: Banyan Group owner and founder Richerd Whittemore in his office.