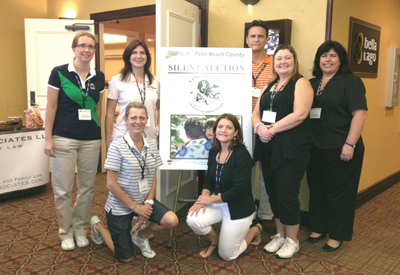 With nothing but rain for weeks before, the four hours of sunshine that allowed charity golfers to get their game on during a benefit for Vinceremos Therapeutic Riding Center last month at PGA National Resort & Spa were a welcome respite.
Approximately 80 people showed up to tee off, and 14 teams managed to play a full 18 holes. As the last team came off the green, the rains returned — once again drenching the South Florida landscape.
"It was a miracle the weather cooperated like it did," said Laura Stolzman, community connection chair for event sponsor the Association of Legal Administrators.
The second miracle might be the astonishing amount raised on behalf of the Vinceremos Therapeutic Riding Center: $27,425 from sponsorships, golf fees and silent auction purchases. Local businesses such as Tropical Bakery, Weekes & Callaway Insurance and Sabadell United Bank helped make this happen.
Located in Loxahatchee Groves, Vinceremos serves adults and children with cognitive, emotional and physical disabilities such as autism, head injuries, stroke and more, via therapeutic horseback riding that can soothe, foster relationship-building and help build confidence and responsibility.
What will Vinceremos do with the windfall? The organization has a number of ongoing projects and a growing wish list, according to Susan Guinan, Vinceremos director of development. It includes:
• Rider subsidies — It costs $125 per lesson (in transportation, instruction, room and board for the horses), yet Vinceremos charges clients just $50.
• Work with area schools — The group has "spectacularly successful" programs in place with the Palm Beach School for Autism in Lantana, and middle and high schools in Wellington and West Palm Beach. For some schools, this means help with transporting students to the farm, in other cases it's helping with volunteer recruitment or paying for riding lessons. A mentorship arrangement with one school promotes interaction between mainstream and special ed kids at Vinceremos. "The benefits trickle down to the mainstream kids," Guinan explained. "When the football captain is a volunteer at Vinceremos, he learns how to have a relationship with someone who isn't exactly like him."
• Getting the word out — Updating marketing materials and photo albums is vital to the nonprofit's ability to attract donors and those who would benefit from Vinceremos' services.
• New horse trailer — Vinceremos has been saving for a new trailer for transportation needs for any of their 20-plus horses, but it's a substantial expense, in the $20,000 range, according to Guinan.
The Association of Legal Administrators is pleased with the charity golf tournament turnout and the amount of money they were able to raise for Vinceremos. "We hope to make this an annual event," Stolzman said.
The charity fundraising golf tournament was hosted by the Palm Beach County Chapter of the Association of Legal Administrators (PBCALA), with its nearly 100 members representing private law firms, government agencies and corporate legal departments throughout the county. PBCALA selected Vinceremos as the benefactor of its "Community Connection" efforts because Vinceremos is a homegrown nonprofit doing great work and focusing on a wide range of illnesses and disabilities for maximum impact in the community.
For more information on Vinceremos, call (561) 792-9900 or visit www.vinceremos.org.
Above: (Front row, L-R) Karen Luther and Marilyn Fong; (back row) Michele Parcells, Erica Poag, Jim Johnson, Laura Stolzman and Gloria Hernandez.