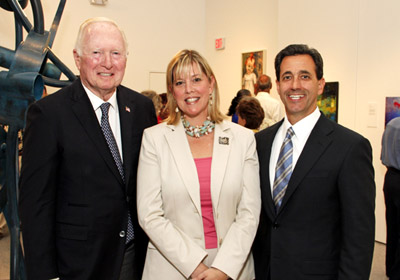 The Palm Beach County Cultural Council hosted a reception recently to recognize original works by 22 Palm Beach County artists who demonstrate a mastery of their medium.
The exhibition, "PBC:ART," is scheduled to run through Aug. 4. It is the first juried exhibition to take place in the council's expansive 2,500-square-foot exhibition space at its new home at 601 Lake Ave. in Lake Worth.
The member-only event was attended by 150-plus guests who viewed challenging and engaging works by 22 Palm Beach County artists, chosen to exhibit in "PBC:ART."
A juried panel of art industry experts chose the 26 works from among over 400 different art objects submitted by over 150 Palm Beach County artists.
Rena Blades, president and CEO of the Cultural Council, kicked off the festivities by addressing the artists, jurors and guests. "Welcome artists and friends," she said. "This is all here for you."
Exhibiting artists in the collection include: Carolyn Barth, Anthony Burks Sr., Katie Deits, Jose Delbo, Bea Doone-Merena, Judy Flescher, Richard J. Frank, TD Gillispie, Maria Hayden, Steve Horan, Claudia Jane Klein, Malcolm Mackenzie, Monica McGivern, Clarence "Skip" Measelle, Hanne Niederhausen, Scherer & Ouporov, Barry Seidman, Rita Shapiro, Vicki Siegel, Karla Walter, David Willison and Jo Anna Zelano.
Members of the "PBC:ART" jury panel include: Rolando Barrerro of ActivistArtistA Gallery Studio in Boynton Beach, Jamnea Finlayson of JF Gallery & Framing in West Palm Beach and Ken Plasket of Kenneth Plasket Gallery in West Palm Beach.
"This juried competition was a wonderful way to seek out and find more artists in Palm Beach County," Blades said. "We plan to offer many more 'call to artists' opportunities like this as a way to introduce ourselves to new artists and as a vehicle to invite members of the artist community who already know us to continue to enjoy the benefits of the council's support of them as professionals."
The Cultural Council is Palm Beach County's official arts agency and serves nonprofit cultural organizations and professional artists throughout the county. Its responsibilities include marketing the county's cultural experiences to visitors and residents, administering grants to organizations and artists, expanding arts and cultural education opportunities, advocating for funding and arts-friendly policies, and serving cultural organizations and artists through capacity building training and exposure to funders and audiences.
For more information, visit www.palmbeachculture.com.
Above: Bert Korman, Rena Blades and Michael Bracci.