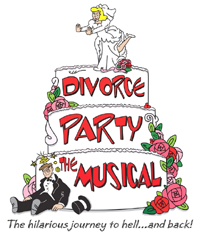 Back by popular demand, Divorce Party The Musical: The Hilarious Journey to Hell… and Back! has returned to the Kravis Center for the Performing Arts in West Palm Beach this summer for a six-week run now through Aug. 19.
Flip-Her Productions announced the return of the brilliant cast that delighted audiences at the sold-out engagement earlier this year. The cast includes Janna Cardia (Wizard of Oz, Grease, Oliver) returning as the character of Linda, along with Soara Joye-Ross (Les Miserables, Jerry Springer: The Opera) as Sheila, and Stacey Todd-Holt (Cry Baby, Elf) and Scott Ahearn (Best Little Whorehouse in Texas, Chicago) as multiple male characters. In addition to these return performances, Broadway's Mary Jane Waddell (Mamma Mia!, Les Miserables) makes her debut in the role of Carolyn, and Kathryn Kendall joins as Courtney.
Whether you are newly divorced, on the brink or happily remarried, Divorce Party The Musical: The Hilarious Journey to Hell… and Back! promises a night of laughter and solidarity for all. The story centers on Linda, who is still reeling from the collapse of her marriage. When all she wants to do is have another bowl of Chubby Hubby ice cream, Linda's three friends (along with a massage therapist/pizza delivery boy/make-over guru and others) decide to help her move on to a new beginning by throwing her the mother of all divorce parties.
Using familiar songs with clever new lyrics, and coupled with a healthful dose of comic mayhem (and a touch of "naughty"), the girls cut loose on the realities of divorce, long-term relationships and moving on.
Broadway and Tony Award–winning theater producer Mark Schwartz (Menopause The Musical) teamed up with Dr. Amy Botwinick, author of Congratulations on Your Divorce: The Road to Finding Your Happily Ever After, to create this riotous new production, which features direction, lyrics and choreography by Jay Falzone (Shout! The Mod Musical, Cooking With the Calimari Sisters).
"Divorce parties are a growing, global trend," said Botwinick, who uses her own divorce experience as a way to help empower other women. "The parties are a way of removing the perceived stigma associated with divorce and instead, focusing on a new phase in a person's life."
Schwartz saw the theme as a perfect follow-up to the successful Menopause The Musical.
"Finally, another girls night out," Schwartz said. "Divorce Party The Musical is the perfect opportunity for friends and adult family members to get together and laugh at a subject that affects nearly everyone."
Divorce Party The Musical is intended for adults only and is presented by Flip-Her Productions. The show runs now through Aug. 19 in the Kravis Center's Rinker Playhouse, with performance times Tuesdays through Saturdays at 7:30 p.m., with matinees Wednesdays, Saturdays and Sundays at 2 p.m. Tickets start at $25 and are on sale now.
As part of a special girls night out discount, groups of 10 or more receive 10 percent off ticket prices. To purchase tickets, visit the Kravis Center box office at 701 Okeechobee Blvd. in downtown West Palm Beach, visit www.kravis.org, or call (561) 832-7469 or (800) 572-8471.