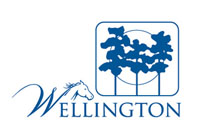 Tasked with sifting through possible changes to Wellington's policies regarding manure handling, the Equestrian Preserve Committee has asked the village to hold off until Palm Beach County sets its new fertilizer provisions.
At a meeting Thursday, July 12, committee members were asked by members of the Wellington Village Council to review proposed changes to strengthen the village's existing "best management practices" ordinance.
The committee voted 5-1, with Vice Chair Michael Whitlow dissenting, to wait 90 days to see what fertilizer provisions Palm Beach County drafts.
Equestrian Master Plan Project Director Mike O'Dell explained that the changes were proposed both to address the county's changes and to help Wellington meet federal Environmental Protection Agency water quality standards. He noted that the county is reviewing its fertilizer and manure management provisions.
The changes would govern how farm owners manage manure and include requiring watertight storage areas and prohibiting the spreading of untreated manure.
"We're recognizing that for the residents that are here, as the manure bins get inspected over time, we may end up creating some extenuating circumstances where compliance will be difficult," O'Dell said. "This provides for property owners to understand what the requirements are for mitigating that."
He explained that though some existing facilities may not meet setback requirements, property owners can comply in other ways.
"There may be some other methods they can employ to still meet these water-quality standards," O'Dell said. "We want to work with them, and we're giving them a vehicle to do that."
One of these ways is composting. "Composting helps break down the phosphorus so it becomes more soluble for the vegetation," he said.
Even small efforts can help boost water quality. "If the manure sits [in a bin] for three days, it will get up to about 150 degrees," O'Dell said. "That will kill all the bacteria. So even letting the manure bake for a short period of time does a whole lot of good, even if you don't go through the whole composting process."
The proposed ordinance also would tighten restrictions for waste haulers and waste disposal sites.
Committee Chair Cynthia Gardner said that one of the issues that would need to be addressed, no matter what changes are made, is educating residents.
"We have never had a good educational program," she said, noting that when the ordinance was first drafted in 2000, committee members wanted to write a series of best management practices and have an educational process.
She recommended that Wellington write a guide in layman's terms for farm owners. "What would seem to me to be a more engaging process would be to write… a list of simple dos and don'ts that people can understand," Gardner said.
Several committee members were concerned about requirements that manure bins be covered.
O'Dell said that although it may not be necessary for them always to be covered, Florida's unpredictable weather could cause issues. "You don't have to be here very long to know that a three- or four-inch deluge makes it so the manure bins are overflowing," he said.
Whitlow was concerned about enforcing the tightened restrictions for manure haulers.
"There are a lot of big trucks out there hauling manure," he said. "I'm not sure that all of them are taking it to the right place. Does code enforcement have the authority to stop people and ask where they are taking it? I think that is probably a necessary and pro-active thing that we need to put in this."
Gardner noted that Loxahatchee Groves has a system for letting it ticket a hauler.
"If they are found to be bringing in more than they are supposed to, or taking it to a place that they're not already approved to take it to, they can get a ticket," she said.
O'Dell said that the ordinance has a provision to audit not only the haulers but also the dumping sites.
"As far as stopping people, that's something we still have issues with," he said.
Whitlow noted that farm owners can be liable under the code for haulers not following protocol. "I don't think farm owners should be punished for haulers' misdeeds," he said.
O'Dell said that Wellington will be promoting approved haulers on its web site, hoping to encourage them to abide by the rules in exchange for more business. "When someone is looking for a hauler, we can point them to the web site," he explained.
O'Dell said that most farm owners he has talked to don't know where their manure goes but can identify their haulers.
"One of the components of getting this ordinance passed is an educational component," he said. "We want to communicate what we're trying to do and why we're trying to do it, while promoting the haulers that are doing the right thing."
Gardner said that she was concerned Wellington might be jumping the gun by making changes before it knows the county requirements.
"What I think would be the best situation, is to take the ideas [O'Dell] has and work on educating the community," she said. "Then take the next year and wait for the new ordinance to come from the county, and see what we're forced to do when the new rules come out. That seems like the logical time for us to write a new ordinance."
Committee Member Myles Tashman asked whether the county was making headway in new regulations, or if it was a distant goal.
Gardner said she was told new regulations should be going before the county in a few months.
The committee voted 5-1, with Whitlow dissenting, to postpone their discussion on the item for 90 days to see what the county proposes.