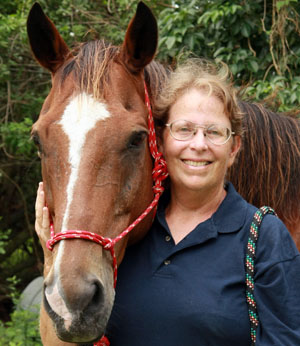 TAILS FROM THE TRAILS
While domesticated, horses still retain one bit of the wild in them: their flight reaction to run in fear from something they perceive as potentially dangerous or lethal. That's what makes some horses spooky or causes them to shy at dodgy piles of debris or sinister horse-eating garbage cans lurking along the roadways.
There are different ways of teaching horses to ignore spooky stuff. One interesting and fun such event was held over the June 8-10 weekend at the Caloosa Equestrian Park by the Caloosa Equestrian Committee. The Caloosa Extreme Trail Challenge offered an open practice on Friday, a clinic on Saturday and then the competition itself on Sunday.
"This is the first time we've tried offering something like this," said Susan Bonanno, a member of the committee and one of the main organizers. "We had a lot of interest, a lot of calls. People came from as far away as Miami and Okeechobee."
This Extreme Trail Challenge was different in a couple of ways from the usual events. Typically, they're held along a 3-mile track, with the obstacles spaced out along the way, some natural and some manmade. This event was held in two paddocks at the park, so spectators and competitors could easily watch each rider navigate through the 12 obstacles.
"This makes it a great training exercise," Bonanno explained. "Everyone can watch and see how it's done. Trainers can watch their students. And the other big difference is the payback. We offered 30 percent of the entry fees to first place, 20 percent to second and 10 percent to third. The entry fees were quite nominal: $20 for the clinic and $20 for the event. We limited entries to no more than 35 riders in each, and you could do one or both."
Bonanno explained that the main goal of the event was to help riders and horses build a mutual trust. In the clinic, riders first led their horses through each obstacle on foot, then tried them again mounted. The obstacles were: mounting from the off-side; placing paper in a mailbox and raising the flag; jumping a small cross rail; taking a raincoat from a pole, putting it on, walking to another pole, removing the raincoat, and hanging it on that pole; walking into a square formed by poles on the ground, turning in both directions, then backing out; pushing a barrel 3 feet; taking a small flag from a bucket and placing it in a different bucket; pole bending around five poles; moving a pole across the tops of top barrels in a pinwheel; walking across a tarp laid on the ground; and the two more interesting events: the car wash and the dummy.
The car wash (or horse wash, as some called it) consisted of a tarp hanging down between two poles. The lower part had been cut into long streamers. The horse had to walk through them. The stuffed dummy hung from a hook on a tree. Riders had to take it down, drag it from the attached rope, then turn their horses and drag the dummy while the horse faced it, walking backward, then re-hang it in the tree.
The riders dodged rain on and off Friday and Saturday, but Sunday was sunny and perfect. Both the clinic and the competition were well-attended, with 29 and 25 entries, respectively. During the clinic, riders could take their time working through the more problematic obstacles. Sunday's competition was a timed event. Riders had a minute to complete 10 obstacles, and 90 seconds each for the dummy and car wash. Before it started, Bonanno met with the four judges. Each paddock had two judges and two time-keepers, each pair refereeing three obstacles.
"Only two riders at a time in each paddock," she reminded them. "If someone's having problems with anything, give them some extra time and space. A perfect score is 10 points, failure to complete something is zero, and you can figure out any scores in between. Just be consistent and fair. Safety comes first."
This was Michele Gurrera's second time judging this type of event.
"I've ridden and competed in trail classes a very long time," she said. "Events like this are a great way to help horses work through scary situations. Time is an added pressure, but I'll reward kinder riders over pushy riders who just want to win."
The first contestant was Jennifer Dachton, who'd traveled up from Broward County with Nirvana, a rescued off-the-track Thoroughbred. "I love helping rescue horses," she said. "Nirvana was a typical crazy Thoroughbred whom people had deemed unsafe to ride. Now, he competes in trail classes."
Somewhat amazingly, Dachton rode her gelding successfully through all the obstacles without a bit or bridle, but in a halter with two lead ropes attached. The gray didn't bat an eye at anything.
Linda, of Lake Park, rode Smarty, her Appaloosa gelding. "The event's lovely; very organized," she said. "Great obstacles. I'm hoping for first place."
Kristi and her friend Ellen drove up from Davie. They participated in the clinic, then Kristi camped out overnight with the two horses, Cody and the Town Buzz, while Ellen returned home to sleep in her air-conditioned house. "It's a lot of fun," Kristi said. "It's the first time we've ever done something like this."
"We're glad they offered something like this locally," Ellen said. "I hope they do it again."
Some horses went through like they'd done it all their lives; some balked at the car wash or became frightened by the dummy. The nice thing was the way everyone remained calm and helpful, judges offering to help and reassure the horses. "It was awesome, extremely successful," Bonanno said. "First place got $144, second got $72 and third got $24. The Caloosa Equestrian Committee made $560, which is fantastic. But best of all, a lot of people and horses had a lot of fun. We're planning the next one for Sept. 15."
For more information on upcoming events, call Susan Bonanno at (561) 644-2055.