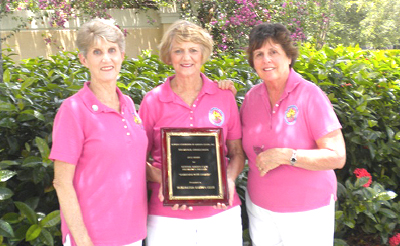 At the 2012 Florida Federation of Garden Clubs (FFGC) annual convention, the Wellington Garden Club received the Award of Excellence for a Club.
The club was recognized for promoting federation aims and objectives, including service to the community, public planting, litter control programs, educational projects including conservation and horticulture, organization of youth units, involvement in federation projects, participation in state flower shows, Arbor Day celebrations, FFGC Deep South, and national awards, contributions to FFGC Headquarters and Endowment, FFGC Wekiva Youth Camp, and the federation's SEEK (Saving the Earth's Environment through Knowledge) program for high school students, as well as scholarship assistance to Palm Beach State College horticultural and environmental sciences students.
"We are always learning and searching for new ways to make a difference in our communities and share both what we know, as well as what we grow," said Wellington Garden Club member and Awards Chair Cass Stryker, who was instrumental in compiling the award submission material. "Our members are delighted to learn that their efforts have been recognized by FFGC."
Wellington Garden Club President Susan Hillson agreed. "Receiving this award is so exciting, and it confirms that we must be doing something right," she said.
The club garnered several other awards at the state convention, including the Public Program Award for its Gardening Makes a World of Difference Day, held at the Wellington Amphitheater in February 2011; the Mentoring Award received by past club president and current District Director Barbara Hadsell, for providing leadership, inspiration, guidance and encouragement to members of the club; the Photographic Slide Award to member Martie Spaier for her digital photographs of birds in a natural setting by a non-professional photographer; the FFGC TriCouncil Award for the National Garden Club President's Projects (Plantings for Public and Special Places) "Gardening with Edibles"; and the Smokey Bear and Woodsy Owl poster contest, in which club member Fauzia Begum's son, Amir, won the contest among second-graders.
Celebrating 30 years as a nonprofit federated club, the Wellington Garden Club is a group of gardening enthusiasts who share a love of plants, an interest in horticulture, nature and beautiful gardens. Members have all levels of gardening and floral design experience, from novice to master gardener, from floral design student to master flower show judge. Over the past several years, the club has grown from fewer than 90 members to more than 140 members today.
Information on membership, monthly meetings and other club activities may be found at the Wellington Garden Club's web site at www.wellingtongardenclub.org.
Above: Wellington Garden Club First Vice President Twig Morris, Awards Chair Cass Stryker and President Susan Hillson.