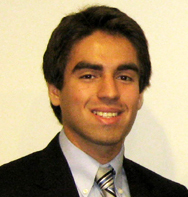 Erin D. Knight, chair of the Stonegate Bank Charitable Foundation and the bank's Miami market president, has announced that Herman Castro of Seminole Ridge High School was one of five Palm Beach County high school seniors awarded the inaugural Stonegate Charitable Foundation Community Service Award & Scholarship. The $1,000 scholarships, to be used toward the students' college education, were awarded at a private luncheon held Tuesday, June 19.
The other winners are Gabrielle Alexandre of Palm Beach Lakes High School, Samantha Purcell-Musgrave of Jupiter High School, Tamara Nicolas of Glades Central High School and Henry Chateauvert of the Dreyfoos School of the Arts. Additionally, the award and scholarships were awarded to five students each in Broward, Collier, Hillsborough, Lee and Miami-Dade counties.
"The young men and women who comprise this year's scholarship class are not only role models in their academics, but also in their communities," said Kris Barnhart, Stonegate Bank North Palm Beach County market president. "We are honored to support them and wish them continued success in their collegiate endeavors."
The Community Service Award & Scholarship was instituted to support the volunteer and leadership potential of Florida's youth. The high school seniors were selected based on their superior community service involvement, while maintaining high academic achievement during their secondary school careers. Winners were chosen by a committee comprised of the Stonegate Charitable Foundation Board of Directors and from within the school districts Stonegate Bank serves: Broward, Collier, Hillsborough, Lee, Miami-Dade and Palm Beach counties.
"Stonegate Bank is proud to support students who are passionate about making a difference and dedicating their time and talent to helping others," Knight said. "We are passionate about recognizing the young leaders of tomorrow who endeavor to make lasting and powerful impressions on the communities we serve."
The Stonegate Charitable Foundation was created by Stonegate Bank in October 2007 for the support and benefit of charitable and educational purposes within the bank's market area. The foundation's mission is to reinforce, encourage and support the bank's ongoing commitment to the wellbeing of the communities it serves. The foundation allocates its resources specifically for the advantage of the community at large, including educational, social and human services.
For more information about Stonegate Bank, visit www.stonegatebank.com.