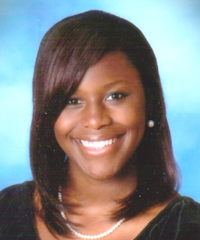 The Delta Epsilon Iota Academic Honor Society has selected Jayla Bostic for membership into its local chapter at the University of Florida.
Delta Epsilon Iota was established in order to recognize and encourage academic excellence in all fields of study.
The organization rewards outstanding students through financial scholarships, provides leadership opportunities to its members, and promotes the principles of dedication, enthusiasm and initiative among students participating in higher education throughout the United States.
Students qualify based on academic achievement. Prospective members must have completed a minimum of 30 semester hours at an accredited college or university, while maintaining a 3.30 cumulative grade point average or a scholastic ranking within the top 15 percent of their class.
Delta Epsilon Iota's membership is composed of outstanding scholars attending many of the finest educational institutions in the country. Organizational vision and cutting-edge resources have made the society one of the leading academic development organizations, synonymous with leadership and excellence in academic life.
The daughter of Drs. Jonathan and Jacqueline Bostic, Jayla Bostic is a graduate of Palm Beach Central High School. She is pursuing a bachelor's degree in health science, specializing in preprofessional, and is slated to graduate in June 2015. Afterward, she plans to pursue a medical degree.