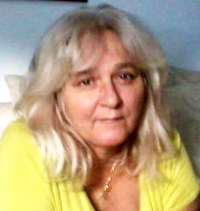 Family and friends of Wellington resident Paula Richards are asking for the community's help in saving her life through a fundraiser Saturday, July 21 from 10 a.m. to noon.
To be staged at the Starbucks on Forest Hill Blvd. in the Wellington Plaza (12840 W. Forest Hill Blvd. at Wellington Trace), the event aims to help raise part of the $575,000 needed for a liver transplant and associated costs.
The event will include a raffle and silent auction, with all proceeds going to pay for Richards' medical costs.
Richards, 53, donated blood in 2008 and later discovered that she was suffering from hepatitis C. A result of a blood transfusion in 1987, the disease had progressed so far that doctors told her a liver transplant would be critical.
"They told her, 'Don't buy a Halloween costume,'" said Dave Olszewski, a friend of the family. "They said she wouldn't live past October."
Olszewski, a charter boat captain, first met Richards and her family when they chartered his boat to go fishing. After several trips, they became friendly with one another. But then Richards stopped making appointments.
"She said she wasn't able to go out anymore," he said. "She told me she was really sick."
Richards is a 30-year Wellington resident with four children, the youngest of whom is about to leave for the Army.
She has held several jobs throughout the community, most recently as a waitress at Smokey Bones. But when she became too sick to work, she lost her insurance, Olszewski said. Even if she qualifies for Medicaid, she'd have to pay for 20 percent of the cost, plus a lifetime of costly anti-rejection medicine, which can cost $2,000 each month.
"She was just going to wait out her days," Olszewski said. "I didn't want to see that happen. They are really nice people."
To help her, Olszewski approached the National Foundation for Transplants and set up an account in her name. The NFT is a nonprofit organization that helps potential transplant patients raise money to pay for medical expenses.
Fundraising began in March, and Richards has already begun the costly pre-transplant testing required before going on the transplant list. Currently, her fund has $1,380.
"I'm just trying to do what I can to help," Olszewski said. "I'm not a miracle worker."
Already, an outpouring of support has come from the community, with several residents and local businesses offering up items for the event.
"The community has really stepped up to support this," Olszewski said. "It has been amazing."
Auction items include a four-month membership to the Binks Forest Golf Club, an autographed guitar played at Woodstock, a charter fishing trip and more.
Those who can't attend can donate online by visiting www.transplants.org and searching for Richards under "Find an NFT Patient." Donations can also be mailed to the NFT Florida Transplant Fund, 5350 Poplar Ave., Suite 430, Memphis, TN 38119, with "in honor of Paula Richards" in the memo line.
"I think it's going to be a great event," Olszewski said. "I hope we have a good turnout so that we can help her."
Above: Transplant patient Paula Richards.