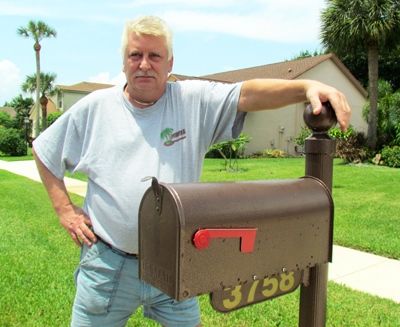 As owners and operators of South Florida Mailbox and Curbing Innovations Inc., the Koteles family of Wellington makes business a family affair.
South Florida Mailbox has been around for five years, delivering and installing mailboxes to residential communities, co-owner and patriarch Mark Koteles said.
Koteles runs the business along with his two adult sons, Alex and Kyle, and his wife, Nancy, does the bookkeeping. "I make sure everything is done right and delivered on time," Koteles said.
South Florida Mailbox can deliver anywhere, and as many mailboxes at a time, as needed. "Whether it be one mailbox or an entire HOA, we can do 200 or 300 of these at a time," Koteles said.
Koteles believes in quality service and installation. "Everything we do is done perfectly, and our clients are happy," Koteles said. "We pride ourselves in the guarantee and quality of the job."
The family decided to get into the mailbox business after realizing that it was an under-serviced market, particularly in Palm Beach County. "About seven years ago, we noticed there was only one other company doing this, and they were based out of Miami-Dade," Koteles said. "Most importantly, their work wasn't up to par."
There was a lack of uniformity in the way the mailboxes were installed, Koteles said. "In a community, one mailbox would be installed at 30 inches and one at 40," he said. "We saw an opportunity to get things done right."
Quality service is the most important part of installing a mailbox, Koteles said, and this is what sets apart South Florida Mailbox from the rest. "Many of these other companies do the job inadequately," he said. "Many of their customers usually call us to fix the problem."
South Florida Mailbox has a variety of mailbox styles available. Customers can view certain styles on the company's web site at www.southfloridamailbox.com.
Once customers call in, they will speak to Koteles' son, Kyle, who handles most of the client installations. "We ask them what style of mailbox they want, and we get it done by installing and delivering quality craftsmanship," Koteles said.
Customers are charged for the mailbox plus installation. "We don't repair mailboxes though, because it's not worth the time and effort, and most customers know that," he said.
The Koteles family also owns Curbing Innovations Inc., a concrete and landscaping business.
"We have many styles for people to choose from," Koteles said. "They just have to tell us what they want, and we have the molds to get the job done, which is very intricate."
To see many of the styles available, customers are invited to visit the Curbing Innovations web site at www.curbing-innovations.com.
According to Koteles, many customers shop around after getting estimates from them, but end up choosing Curbing Innovations. "We are the best and everything turns out perfect, and you pay for what you get," he said.
Adding curbing to a house increases the house's resale value, Koteles noted.
"After doing the curbing, many of our clients say, 'I should have done this years ago,'" Koteles said. "It adds value to the house, you have no problems with mulch, you have no plastic or rubber edging, and once you put our curbing in it's guaranteed for life and it looks beautiful."
For more information about South Florida Mailbox or Curbing Innovations, call (561) 389-2491.
Above: Mark Koteles with a mailbox installed by South Florida Mailbox.