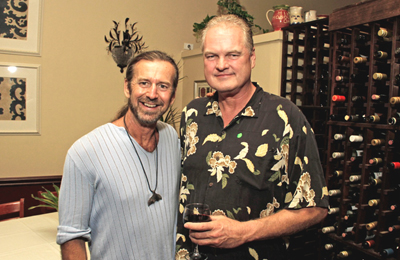 The Arthur R. Marshall Foundation hosted a reception Wednesday, June 20 at Cha Cha's Latin Fresh Kitchen & Tequila Bar in Palm Beach.
According to Nancy Marshall, president of the foundation, 125 supporters attended the successful event.
Hosted by Joyce McLendon, Bobbi Horwich and Jaimie Goodman, the "friend-raiser" attracted 46 first-timers to a Marshall Foundation event, as well as such familiar supporters as Arlette Gordon, Irma Anapol, Rob Russell of the Colony Hotel and River of Grass committee members Yu Ling Cui, Roberta Drey, Barbara McDonald, Bernadette Shaloub, Paul Suschak, Phyllis Verducci and Linda Wartow.
Among the elected officials on hand were Palm Beach Mayor Gail Coniglio and Councilman Bill Diamond, Lake Worth Mayor Pam Triolo and Vice Mayor Scott Maxwell, Palm Beach County Tax Collector Anne Gannon, Broward County Commissioner Kristin Jacobs and State Rep. Jeff Clemens (D-District 89).
Highlights of the Summer Solstice Celebration included the public introduction of the Marshall Foundation's five new summer interns (James O'Connell, Max Wallace, Danielle Koushel, Mary Crider and Kyle Dollman) and Ann Paton, the nonprofit organization's new director of development.
"This was the second of several social events that the Marshall Foundation will be hosting this year in Palm Beach, culminating with our seventh annual River of Grass Gala, which will be held on Saturday, Dec. 8, at the Colony Hotel Pavilion," Marshall said.
Based in Palm Beach County, the Marshall Foundation champions the restoration and preservation of the greater Everglades ecosystem through science-based education and outreach programs. Annually, more than 15,000 elementary and high school students in Palm Beach County actively participate in the Marshall Foundation's various education programs.
Founded in 1998, the nonprofit organization has in recent years awarded more than $400,000 in scholarships and internships, planted nearly 100,000 native Florida trees in wetland areas, and involved more than 5,000 volunteers in hands-on restoration projects.
For more information, visit www.artmarshall.com.
Above: Norm Gitzen of Wellington with Michael Sedan.