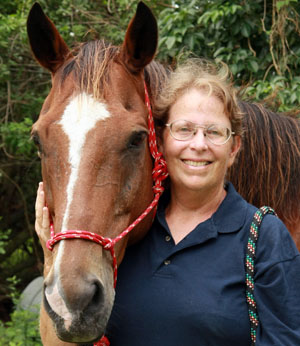 TAILS FROM THE TRAILS
The London Olympics begin this week. Ever wonder what it's like to ride in the Olympics? Neal Shapiro knows. Forty years ago, he was there.
Even as a youngster, Neal always wanted to ride. He lived down the block and was friends with my older brother. He owned a horse, which he boarded at a stable, which is why, when I was little, I wanted his family to adopt me. His family moved to a small farm in Brookville, further out on Long Island. Whenever my brother got my dad to drive him out for a visit, I begged to go along.
"I started competing seriously in 1959 on the Long Island Circuit on a little mare named Buttons," Neal recalled. "At 15, I showed Music Man in Madison Square Garden in 1960."
Everything changed that summer. During a Fourth of July picnic, a car towing a horse trailer drove up to Neal's farm. A stranger got out and asked, "Where do you want him?"
Neal was confused. The man insisted he was supposed to drop off the horse and pick up another one, plus a check. Neal tells the rest:
"'Oh, yeah,'" my dad, Doc, mumbled. "'I forgot to tell you. Someone spotted this horse down in Pennsylvania and thought he'd make a good jumper. I'm trading our gaited trail horse plus some money.'"
Uncle Max, a tall gray ex-rodeo gelding, did, in fact, make a good jumper. He was named Green Horse of the Year the next year, and won the big Saturday night jumping PHA class in Madison Square Garden. That was 1961. Neal was 16, the youngest rider ever to win. In 1964, he was invited to join the U.S. Equestrian Team with another of his horses, Jacks or Better.
"The four-day USET Trials in Gladstone, New Jersey, were a real workout," Neal said. "I never thought I was that capable. Each day we worked on something else: flat work, dressage, cavaletti and gymnastics, and Grand Prix jumping. I'd never had a lesson or worked with a trainer, couldn't do any of the dressage, but I was selected as one of two young riders, along with four regular members, and that winter I trained in Gladstone."
Neal said he didn't know he'd ride in the Olympics until he was already there.
"That was a very unusual year. A bunch of our horses went lame; it was very up in the air," he explained. "My horse, a Thoroughbred named Sloopy, caught a bad virus in July, but he recovered. Then he got a bad cut while schooling and ended up with stitches in a hind leg, but he toughed it out."
Indeed, Sloopy went clean in the class and first jump-off, then had two rails down the third time. The results: The U.S. team got silver, and Neal won the individual bronze.
"Riding in the Olympics absolutely feels very, very different from riding in any other big show," Neal said. "These are tough, enormous courses. There's a lot of pressure. You're competing against the elite, the best in the world. It can elevate your game, but you also hope to not fold under all that pressure, plus your horse has to be 'on' on that particular day, able to tolerate the crowds and noise. It takes training, willpower and concentration. It's hard to describe what getting the medals felt like. Who would ever think you'd be there, accepting the ultimate prize? It's amazing, indescribable."
But there's one more thing. The games Neal competed in weren't just any Olympics. They were the 1972 Munich Games, Aug. 26 through Sept. 11, which a group of terrorists turned into a tragedy.
At 4 a.m. on Sept. 5, eight Palestinian terrorists, members of Black September, broke into the Israeli team's rooms in the Olympic Village, killing two and taking nine others hostage. Negotiations continued throughout the day. At about 10:30 that night, the terrorists and hostages were flown by helicopter to a nearby military airport, where their plans fell apart. All of the Israelis and five terrorists died. A month later, on Oct. 29, Germany released the three surviving terrorists in exchange for the group's release of a hijacked Lufthansa jetliner.
"The morning it happened, they really ramped up security measures in the Olympic Village," Neal recalled. "We'd gotten up early, 5:30 or 6, to go down to the café for breakfast, then head out to the underground staging area to catch a bus out to where the horses were stabled, about 45 minutes outside the city."
There were a lot of officials and guards around, people with rifles running on the rooftop. "At first, I thought some big dignitary was visiting. There were rumors of a fight between the Israeli and Egyptian delegations," he said. "When we got to the underground bus area, we heard some weird noises. I walked around a corner and saw soldiers and a tank. That's when we knew it was something serious. When we got to the stable, we watched it all on a TV in the tack room. They'd sealed off the Olympic Village, so we were temporarily stuck at the barn. Then, that night, it all fell apart."
The games were very different after that point.
"They held a one-day memorial the next day and postponed the games for that one day, but then they continued," Neal recalled. "The whole atmosphere changed. They checked everyone's credentials carefully. It was a lot harder getting in and out of the Olympic Village. Before, everyone hung around and socialized, watched other events. Afterward, it was much quieter, all business."
I asked Neal if he was ever worried, being Jewish. Another Jewish athlete, American swimmer Mark Spitz, who'd won seven gold medals at the games, was rushed out of Germany as a precaution.
"No, I was never worried," Neal answered. "They wanted the Israelis, not me. What would they want with me?"
That was 40 years ago. After his show jumping career, which included two wins at the Aachen Grand Prix, Neal spent 30 years racing Standardbreds. Now, he lives in central New Jersey, where he owns and runs Hay Fever Farm, a top boarding and training facility. Neal's Olympic medals, framed, hang on the wall. There are other honors. In 2010, he was inducted into the Show Jumping Hall of Fame.
His advice for others aspiring to Olympic glory?
"It takes a lot of hard work. Get the proper training from confident and skilled teachers," he said. "Find a nice horse with talent and ability."
Neal's Hay Fever Farm's motto says it all: "Always set high goals." Visit Hay Fever Farms' web site at www.hayfeverfarm.com.
This year's London Olympics will hold equestrian medal events on the following days:
Individual and team eventing: July 31; team jumping: Aug. 6; individual jumping: Aug. 8; team dressage: Aug. 7; individual dressage: Aug. 9.
For more information about the terrorist attack at the Munich Olympics, view One Day in September, a great documentary that won an Academy Award.