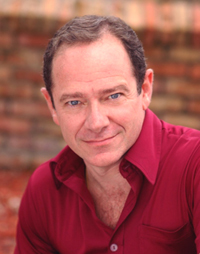 Boca Raton's newest theater company has two productions planned for its second season: Michael McKeever will star in Joe Mantello's adaptation of David Sedaris' The Santaland Diaries, and McKeever's collection of short plays, The Whole Caboodle, will run for four weeks in February.
Both plays will be produced at the Studio Theatre at Mizner Park. Parade Productions debuted solidly last winter with an entirely sold-out run of Donald Margulies' Brooklyn Boy.
"Last season we took a leap of faith, and the community followed right behind us," said Candace Caplin, the company's executive producer and the driving force behind Parade Productions. "We've had tremendous support, and we're grateful. People have asked us to continue bringing more, quality theater to Boca Raton, and that's just what we're going to do. We're excited about how we've begun, and where our partnership with the community is going. This year our focus is on humor, and with Michael McKeever, we've got the best."
From Dec. 13-23, McKeever will star in The Santaland Diaries, the one-person performance piece written by humorist David Sedaris and adapted for the stage by Joe Mantello. This hilarious piece of theater relates Sedaris' own experiences as he reluctantly worked as an elf in Macy's Christmastime Santaland display, offering an uproarious, behind-the-scenes look at how department stores manufacture Christmas spirit.
And from Feb. 2-24, audiences will discover what Stephen Sondheim, Abe Lincoln, munchkins and ambivalent lesbians have in common, as they all get the McKeever touch in The Whole Caboodle, the award-winning playwright's wickedly funny collection of some of his most celebrated short plays. With a razor sharp sense of humor and extra-keen insight, The Whole Caboodle takes apart and reassembles an entire series of loveably flawed characters and pop culture icons with hilarious results.
Along with McKeever himself, Parade Productions has assembled a top-notch cast for The Whole Caboodle: Elena Maria Garcia, Jacqueline Laggy, Clay Cartland, Casey Dressler and Candace Caplin. Both productions will be directed by Kim St. Leon.
McKeever, who recently won a Carbonell Award for Best New Work for his play Stuff, explores every aspect of the human condition in his work, which incorporates a wide variety of styles and subject matter. His plays have entertained audiences throughout America and Europe. From the deep-rooted prejudices of small town America to the delicate dysfunction of society's wealthiest homes, the playwright creates stories that entertain and enlighten.
McKeever has been honored with an NEA Residency Grant (New Theatre, Miami) and has been a three-time finalist for Humana Fest's nationally renowned Heideman Award. He is the proud recipient of three Carbonell Awards; four Curtain Up Awards; and two Florida Individual Artist Fellowships. Six of his plays have been produced at City Theatre's prestigious Summer Shorts Festival in Miami. He has been a finalist several times at both the Key West Theatre Festival and the Sarasota Festival of New Plays.
He is also an award-winning actor and designer. He resides in South Florida and is a member of the Dramatists Guild and Actors' Equity.
The Santaland Diaries opens Dec. 13, and runs through Dec. 23, with performances Thursday through Saturday evenings at 7:30 p.m., and Saturdays and Sundays at 2 p.m. Tickets cost $35 ($30 for groups of 15 or more).
The Whole Caboodle previews on Jan. 31, opens Feb 2, and runs through Feb. 24, with performances Thursday through Saturday evenings at 7:30 p.m., and Saturdays and Sundays at 3 p.m. Tickets cost $35 ($30 for groups of 15 or more). A special two-show package price of $30 per ticket is also available. All seating is reserved.
Tickets are available at www.paradeproductions.org or by calling (866) 811-4111. For group sales, call (561) 291-9678.
Above: Michael McKeever