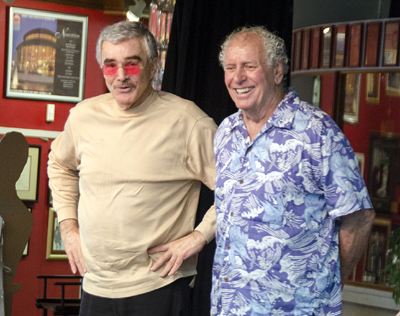 On Saturday and Sunday, July 14 and 15, students at the Burt Reynolds Institute for Film and Theatre had the unique opportunity to participate in a stunt workshop taught by Taurus World Stunt Lifetime Achievement Award recipient Glenn R. Wilder.
Wilder has been the "go to guy" for action films for over half a century. Among his better known movies are The Last Starfighter, The Presidio, Edward Scissorhands, Days of Thunder and Terminator 2. His nearly lifelong friendship with Burt Reynolds began when both worked on the TV series Gunsmoke. Together they have thrilled fans with their action adventure antics in more than 50 movies and TV shows.
Reynolds, appearing relaxed and in good health, spent the weekend sharing stories with students who attended the-two day class. He told those present that the workshop was the first time he and Wilder had actually been on a stage together. Then, with his trademark glibness, he recalled his recent stint on the hit TV show Burn Notice. Wilder coordinated the stunts for the show because, according to Reynolds, "I wanted to beat him up again. I've been beating him up forever."
Brian Hirth, a student who learned how to take a punch, praised the course. "Not only did I learn how hard it is to be a stuntman, I gained a new respect for the athletic abilities of those in the field," he said.
Another student, Michael Varde, was awed by the opportunity to get up close and personal with both Wilder and Reynolds. "They were just regular guys — regular, highly talented guys! Their respect for one another was inspiring," he said.
Students wearing protective pads were taught wrestling moves, including kicks, kneeing, throwing elbows and take-downs. They learned to take and avoid punches, to fall from the stage without injuring themselves and to faux fight — one of the highlights of the class.
Plans are in the works to offer the workshop again. A waiting list has already begun to form with new and repeat students.
The Burt Reynolds Institute is located at 100 North U.S. 1, Jupiter. For information on classes, call (561) 385-1584.
Above: Burt Reynolds and Glenn R. Wilder.