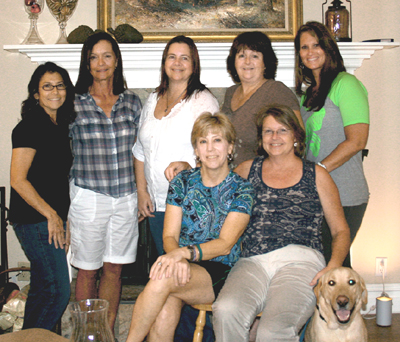 While members of the Wellington High School graduating class of 2013 enjoy their summer vacations, a committee of parents has come together to begin planning the end-of-year party known as Project Graduation.
The all-night party, held the night of graduation, is a supervised drug-free and alcohol-free event for graduating seniors. This fun-filled event enables the graduates to celebrate their accomplishment in a safe, secure environment while providing peace of mind to their parents.
"The torch has been passed, and it looks like the event is in good hands," Project Graduation 2012 co-chair Susanne Bennett said. "We wish the new committee the best of luck."
Members of the 2013 WHS Project Graduation Committee are as follows: co-chairs Karen Herrick and Pam Yackulics, Jamie Baker, Troy Bermudez, Sandy Hearns, Chrissy Henley, Donna Sprunger and Amy Thibault.
The cost to produce the Project Graduation party is approximately $20,000, so to help offset that cost, the committee will hold a number of fundraisers in the coming months, beginning with Shop for a Cause Day Saturday, Aug. 25 at Macy's.
"This is the seventh year Macy's has done this, and we're very thankful to be included," said Herrick, who explained how the fundraiser works. "We are selling shopping passes for $5 each, which are good for 25 percent off on regular, sale and clearance merchandise, including designer brands, throughout the store; as well as 10 percent off furniture, mattresses and area rugs. Anyone who purchases one of the shopping passes, whether you use it or not, will be eligible to win a $500 gift card."
Herrick noted that "exclusions and restrictions apply, so please refer to the shopping pass for details."
Additional fundraisers will be held in the coming months, including a fall golf tournament as well as a food and drink event at Whole Foods Market. Details on those and other events will be released as soon as information becomes available. For more information about next year's Project Graduation at Wellington High School, or to make a donation, visit the Project Graduation 2013 Facebook page, or contact the committee at karen.herrick@palmbeachschools.org or (561) 790-2726.
Above: The 2013 WHS Project Graduation Committee.