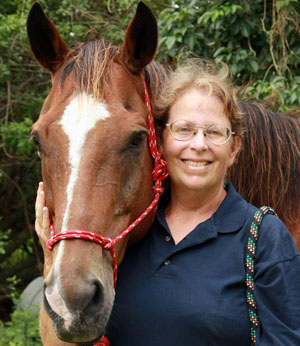 TAILS FROM THE TRAILS
It was a great idea — the Acreage Horseman's Association planned to hold a tack sale and swap meet at Nicole Hornstein Equestrian Park. For a nominal fee, anyone could rent a space, set up tables and sell their stuff. The date: April 29. The problem: It poured all day long. I'd had the sale on my calendar, but I looked out the window and shook my head, disappointed.
The sale did go on, however; but an additional rain date was announced: July 15. I couldn't wait. The day dawned overcast, and before 8 a.m., showers briefly swept through.
Not again, I thought, and waited, hoping.
Sure enough, although the clouds hung around, the rain held off; and the sale went off without a hitch. About a dozen people or groups offered all sorts of horse-related items for sale. There were saddles, pads, bridles, halters, riding clothes and boots, helmets, artwork, knickknacks, even a cart and harness.
Christina Izquierdo was there displaying her custom-made western hatbands. "I thought this would be a good place to let people see them," she said. "They're crystal stones on leather bindings, all different designs."
"I brought along a bunch of boxes of all kinds of stuff," added Meghan Garcia. "It's all doubles and triples of stuff I had sitting around at home. I never sell singles, things I have only one of — you never know when you might need something. Only problem is, I think I've bought more stuff from other people than I've actually sold."
Volunteers from Luv-A-Pet, a local cat and dog rescue group, had a booth. Kelly Knotts, their director, had also brought along a mini horse.
"We're selling pet- and horse-related items which were donated," she explained. "All proceeds go directly to helping the animals we're trying to get adopted. We're located in the Publix shopping center in Royal Palm Beach."
Two other horse groups also had booths with items for sale.
"It has been a nice day," said Jennifer Swanson of Pure Thoughts Horse Rescue. "It's good working with the Acreage Horseman's Association."
"It has been going OK," said Ruth Menor, executive director of the Vinceremos Therapeutic Riding Center. "We're selling excess items people have donated. In addition to raising some money, an event like this is a nice way to get some publicity and meet other people in the horse community."
Indeed, the friendly atmosphere fostered just that, a sense of being part of a large horse community. Someone stopped me and asked for the name and number of someone I'd done an article about two years ago. I jotted down her name and called the next day with the contact information for Joy McKay, who cleans horses' sheaths.
I wandered around, not just interviewing people but meeting friends, catching up on horse events and, of course, buying things that, while I didn't exactly need, I could probably use. I ended up with a saddle pad, saddlebags, a hay bag, a girth, yet another bit, two fly masks and a cute framed horse print.
"The sale is going well," said Christy Hildebrand. "I've made some decent hay money."
Recently unemployed but with lots of good skills, Hildebrand was also trying to find a home for her bombproof, older horse. "Hard times," she sighed.
Beverly Woodard cleaned out her tack room and hauled along the excess. We swapped stories about rescuing horses.
"I wish there were more people here," she said. "At least the weather is holding out. It's nice running into people we know. This is like a whole bunch of horse people coming together for a community event."
And it was. People brought horses and put on riding demonstrations. Three girls rode their horses, some bridleless, which was impressive, one even doing bridleless reining and cutting. I don't know which I enjoyed more, chatting with friends or finding great bargains.
"The sale was a great success," said Linda Rainbolt, pleasure director of the Acreage Horseman's Association.
She had brought along two western saddles needing a new home. "I think it was excellent. Everyone had fun, and there was a lot of good stuff for sale," Rainbolt said. "We'll be holding these sales twice each year, in November and May.
In addition, the group will be holding free weekly riding classes at the equestrian park on all sorts of topics.
"Everyone's welcome; you don't have to be an AHA member to participate or watch," Rainbolt said. "There will be clinics on showmanship, grooming and conditioning, western pleasure, hunter/jumper, reining and cutting, trail class obstacles, de-spooking, western dressage, dealing with behavior problems, driving and anything else anyone can think of or would like to see. They're held different days of the week, either on weekday evenings or on a Saturday or Sunday. Check our web site for specifics."
The goal is to get people out so they can enjoy doing things with their horses.
"Some people have lovely horses that just sit out in the yard doing nothing," Rainbolt explained. "We'd like to see horse people being active, connecting with friends and neighbors in the horse community, organizing local trail rides. It's a great way to meet others while learning something fun and useful."
For more information about the Acreage Horseman's Association and for clinic dates and times, visit www.acreagehorseman.com.