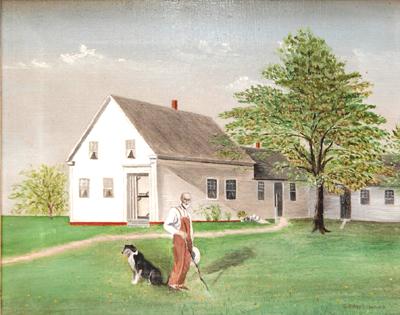 What began as a low-key summer sale has swollen into a two-day, 500-plus-lot colossus at Elite Decorative Arts. The weekend event will be held Sept. 15-16 at the firm's gallery located in the Quantum Town Center in Boynton Beach (1034 Gateway Blvd., Suites 106-108). The auction will offer fine antiques, decorative arts and estate jewelry.
"This will be a solid decorative arts sale with a lot to choose from," said Scott Cieckiewicz of Elite Decorative Arts. "We thought we could contain it all in one day, but as more consignments poured in, it became evident a second day was necessary. And that's great. Summer is typically a slow time for South Florida, but all this activity suggests strong demand and a healthy market."
For those unable to attend in person, online bidding will be facilitated by Artfact.com, LiveAuctioneers.com and Auctionzip.com. Phone and absentee bids will also be accepted. The auction will start at 1 p.m. both days. Previews will be held on Friday, Sept. 14, from 11 a.m. to 5 p.m., and Saturday, Sept. 15, the first day of sale, from 11 a.m. until the first gavel comes down.
One of the expected top lots of the auction is an exquisite 18-karat white gold ring holding a round brilliant cut 3.95-carat natural blue diamond having 129 solare cut facets (estimated value, $60,000 to $80,000). The blue diamond, boasting VS2 clarity, is flanked by Kite white diamonds and is surrounded by round cut diamonds. The stunning size 7 ring has a diamond weight of 5.7 dwt.
Civil War and presidential memorabilia enthusiasts will be intrigued by an Abraham Lincoln original handwritten letter with hand-signed engraving (estimated value, $8,000 to $12,000). The letter is dated Nov. 12, 1864, and is accompanied by a note also written during the war. The engraving, showing a profile of Lincoln, is 5 inches by 7 inches and signed by engraver Frederick Reynolds.
Artwork will include an artist proof bronze sculpture of a goat by Louise B. Nevelson. The sculpture, signed to the back of the rear feet and measuring 12.75 inches tall by 20 inches long, should bring $10,000 to $15,000. And a pencil on paper of a nude female by Fernando Botero, 22 inches by 15 and a half inches, is expected to hit $30,000 to $40,000.
A pair of watches carries identical pre-sale estimates of $6,000 to $8,000 each. One is a Bulgari 18-karat yellow gold and diamond Parentheses (or "Parentesi") bangle watch with fancy-shaped links featuring a round dial set with single-cut diamonds. The other is a man's 18-karat yellow gold Rolex President Oyster perpetual day/date watch with gold hands and leather case.
Two decorative accessories also have the same pre-sale estimates ($3,000 to $5,000). The first is a footed, oval-shaped Tiffany & Company sterling silver entrée dish with a repoussé pomegranate design. The second is a beautiful pair of 18th-century Sevres yellow porcelain lidded urns, 21 inches in height, each having a panoramic landscape scene with playing cherubs.
A Grant Wood oil-on-canvas painting and a Jacobus Stainer violin and bow with case each is expected to command $4,000 to $6,000. The painting by Wood depicts a landscape scene with figures in Anamosa, Iowa, circa 1910. It is 12 inches by 15 inches. The violin, bow and original fitted wooden case are circa 1660, with a total weight of about 6 lbs.
Two watercolor renderings worth noting are a harbor scene, signed lower center by Ralston Crawford, measuring 13 inches by 19 inches and matted and framed (estimated value, $5,000 to $7,000); and a watercolor on card stock by Robert Havell Jr., depicting a London landscape, inscribed en verso, circa early 19th century (estimated value, $5,000 to $7,000).
Returning to estate jewelry, a gorgeous two-piece 18-karat yellow gold necklace and bracelet suite, holding 75 round cut white diamonds and measuring 15 and a half inches in length, could climb to $7,000 to $10,000; and a dazzling Marlene Stowe 18-karat yellow gold and platinum diamond heart bangle with a wide design and having a yellow gold and satin finish, should hit $6,000 to $8,000.
Elite Decorative Arts' next big sale after this one will be a fine artwork and decorative arts auction slated for Saturday, Oct. 13, also in the firm's Boynton Beach showroom. Quality consignments are still being accepted for that auction and the one after that, too, scheduled for Saturday, Nov. 10. It will be the biggest Chinese auction of the year for Elite Decorative Arts.
Elite Decorative Arts is always accepting quality consignments for future auctions. To consign an item, an estate or an entire collection, call (800) 991-3340 or e-mail info@eliteauction.com. All e-mails are promptly replied.
To learn more about Elite Decorative Arts and the upcoming calendar of events, to include an online catalog of the Sept. 15-16 auction, visit www.eliteauction.com.
Above: An original oil painting by iconic American artist Grant Wood.