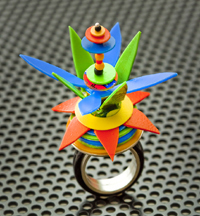 Regional talent will take center stage in two upcoming exhibitions at the Lighthouse ArtCenter.
The shows, "Faculty Exhibition" and "Made in Florida: Florida Craftsman Members' Show," highlight a range of styles and media. They will run Aug. 6 through Oct. 10.
Students always shine at the Lighthouse ArtCenter's School of Art. But the museum's annual "Faculty Show" is all about the instructors.
"Each year, I am impressed with the quality of work offered by our faculty," said Barbra Broidy, the ArtCenter's executive and curatorial assistant.
Katie Deits, the ArtCenter's executive director, agreed. "We always have been known for the quality of our instructors, and each year, it seems as though they raise the bar," she said.
The faculty exhibition will include paintings by Barbara Carswell, Norma Conway, Charles Gruppe, Peggy Kirkwood, Sibel Kocabasi, Ted Matz, Hugh O'Neill and Randall Scott; drawing and cartooning by Pat Crowley; mixed media by Jenny Constable, Judy Flescher, Esther Gordon and Ann Lawtey; jewelry by Tracey Roedl; ceramics by Justin Lambert and Cara McKinley; sculpture by Maritza Cornejo Bean and Nilda Comas; photography and Photoshop imaging by David Randell and David Willison; fused glass by Betty Wilson; and storybooks by Cathy Helowicz.
"Made in Florida" is the official Florida Craftsman Members' show and is a juried exhibition showcasing the finest contemporary glass, jewelry, fiber, wood, ceramics, metals and mixed media.
"The Florida Craftsman gallery is located in St. Petersburg, so this exhibition is an opportunity to be awed by the range of talent from across the region," Deits said. "Expect to be amazed."
Opening reception for both shows will be held during the museum's Third Thursday event on Aug. 16 from 5:30 to 7:30 p.m.
"There is no better opportunity to meet the artists and to be inspired," Deits said.
The Lighthouse ArtCenter is a member-supported not-for-profit charitable organization, providing excellence in art exhibitions, instruction, education and outreach for all ages. It is located in Gallery Square North at 373 Tequesta Drive in Tequesta (half a mile west of U.S. 1). Museum hours are 10 a.m. to 4 p.m. Monday through Friday, and 10 a.m. to 2 p.m. Saturday. Admission costs $5 Monday through Friday and is free on Saturday. The museum is closed Sunday.
For more information about the Lighthouse ArtCenter Museum, School of Art, exhibitions, programs and events, visit www.lighthousearts.org or call (561) 746-3101.
Above: A bio-diversity ring made by Florida Craftsmen artist Brenda Gregory.