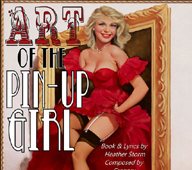 For South Florida playwright Heather Storm, the prospect of turning a dream into reality is now closer than ever.
Storm, writer and creator of Art of the Pin-Up Girl, a musical romp through the history of the American pin-up, first envisioned the project more than 10 years ago. Following a staged reading in New York City that "went very well," according to Storm, a second reading is planned locally. The New York reading was staged at Shetler Studios' Theatre 54.
"We had an excellent turnout with about 80 percent of the house full of audience members who were delighted, and the feedback was tremendous," Storm said. "We can't wait to do it again here in South Florida."
Casting will soon begin for a staging and future live performances of Art of the Pin-Up, with filming for multimedia presentation also in the plans. Dates, times and venues will soon be announced.
"We are looking for six to eight female performers who can sing, dance and act for stage and for filming, and who also can style themselves in a vintage/retro/'pin-up' look," said Storm, who offered a look at the characters currently being cast.
The characters are Ruth Etting, a 1920s radio and Ziegfeld star, alto, slim, beautiful; Anna Mae Clift, a Greenwich Follies showgirl of the 1920s, alto, blonde, Southern belle; Lena Horne, an African-American movie star of the 1940s and 1950s, beautiful, soprano; Bettie Page, a queen of the pin-ups, black hair with bangs, beautiful, alto, bluesy voice; Alberto Vargas, a tall, slim, Hispanic male, handsome, gentile, can be a non-singing role; and Baron von Lind, a narrator, male, suave, conversational, dynamic, baritone.
"We are also casting additional roles, both male and female, for speaking roles and chorus," Storm said, "and we also need excellent dancers (jazz/swing/ballroom) for full company numbers and musicians, including horns, guitar, piano and other instruments."
Submissions should be made via e-mail to palmbeachbystorm@gmail.com. Include links to all digital profiles, including pictures and sound and video files (if available). The roles being cast for the reading are unpaid at this time. Copy, credit and meals will be provided for the filmed portions. This is non-union.
Art of the Pin-Up Girl is an original musical that takes a fond look at the history of pin-up girls — those iconic, perfectly proportioned beauties who have adorned magazine pages, posters, calendars and bedroom walls for more than a century.
Originally inspired by a coffee table book, The Great American Pin-Up, Storm set out to create a story that weaves tales of actual people and events into the tapestry of a musical trip through the time and space of pin-up art in America.
The 15 original songs in the musical were composed by Gregory "Popeye" Alexander, Storm's husband and a well-known South Florida composer, producer, singer and radio personality. Alexander is lead singer for the International Players and Memory Lane and also plays bass and keyboards for PoKoLoko based in West Palm Beach. The music was co-produced by Alex J. Weir of PokoLoko at Dreamhouse Studios in West Palm Beach.
To listen to musical excerpts from Art of the Pin-Up Girl and learn more about its origins and the pin-up icons who inspired it, visit www.artofthepin-upgirl.com.
Above: An original pin-up girl poster by pinup artist Baron von Lind to promote the new musical.