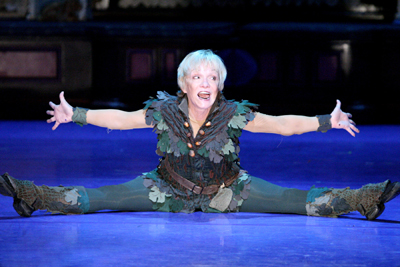 Audiences are invited to discover the magic of the two-time Emmy Award–winning and two-time Tony Award–nominated production Cathy Rigby is Peter Pan. Families and fans will have their chance to "fly" into the Kravis Center for the Performing Arts for this magical production now through Aug. 5. Tickets are now on sale to the general public.
Cathy Rigby is Peter Pan is a unique, family-friendly attraction of spectacle and fantasy. The thrill of flying, timeless magical moments and a captivating hook will mesmerize young and old alike. The legend you thought you knew is now the adventure you never dreamed possible.
Cathy Rigby is Peter Pan is produced by McCoy Rigby Entertainment, Nederlander Presentations, Albert Nocciolino in association with Larry Earl Payton, Michael Filerman, Heni Koenigsberg and La Mirada Theatre for the Performing Arts. Direction is by Glenn Casale, who directed the 1999 Tony Award–nominated and Emmy-winning Peter Pan starring Cathy Rigby.
Casale has been a resident for almost 23 seasons at the California Musical Theatre, where he has directed more than 550 shows. The flying sequence choreographer is Paul Rubin, a.k.a. "the Fly Guy," who has choreographed some of the most memorable flying sequences from the Tony Award–winning Broadway production of Wicked, to Cathy Rigby's Emmy Award–winning DVD Peter Pan. The creative team includes Patti Columbo (choreographer), Keith Levenson (musical director), Michael Gilliam (lighting design), Julie Ferrin (sound design), Sean Boyd (fight director) and Julia Flores (casting director).
McCoy Rigby Entertainment's Tom McCoy and Cathy Rigby are beginning their 17th season as executive producers of the McCoy Rigby Entertainment Series at La Mirada Theatre for the Performing Arts. Since the 1994-95 season, McCoy Rigby has produced more than 75 plays, musicals, concerts, dramas and comedies.
MRE has also produced several Broadway productions and national tours, including Peter Pan and Seussical the Musical, both starring Cathy Rigby, Jesus Christ Superstar starring Carl Anderson, Camelot formerly starring Michael York and through 2008 starring Lou Diamond Phillips, and Happy Days the Musical.
Since 1990, Cathy Rigby is Peter Pan has made four stops on Broadway, garnering four Tony Nominations, including Best Revival of a Musical and Best Actress in a Musical. Other credits include the A&E network premiere of Peter Pan, which received four Emmy Award nominations and one Emmy Award, "The Historic All-Star Concert for Pope John Paul II" at the Los Angeles Coliseum, and the award-winning documentary on balancing wellness titled Faces of Recovery.
The Washington Post wrote, "Peter Pan sparkles with fairy dust! Rigby has mastered the boy who wouldn't grow up."
Cathy Rigby is Peter Pan flies into the Kravis Center for the Performing Arts Aug. 1-5. Performances continue with matinees Friday, Aug. 3 and Saturday, Aug. 4 at 2 p.m., and Sunday, Aug. 5 at 1 and 5:30 p.m.
Tickets are on sale to the public at the Kravis Center box office (701 Okeechobee Blvd., West Palm Beach), online at www.kravis.org/peterpan or by calling (561) 832-7469 or (800) 572-8471, and at all Ticketmaster outlets.
Tickets start at $25. Group orders of 10 or more receive a discount and may be placed by calling (561) 651-4438 or (561) 651-4304.
For additional information on the show, visit www.cathyrigbyispeterpan.com.

Above: Cathy Rigby in the role of Peter Pan.