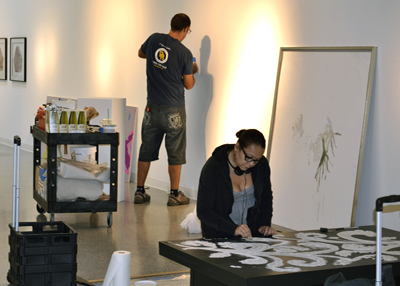 Ten Master of Fine Arts visual arts graduates and 10 MFA candidates from Florida Atlantic University have come together to show their works in the all-new exhibition "Continuum," on display now through Nov. 10 at the Cultural Council of Palm Beach County (601 Lake Ave., Lake Worth). The exhibit is free and open to the public.
"Continuum," organized and planned by the students, presents a collection of a wide range of media including painting, ceramics, mixed media and performance. "Continuum" also promises a variety of changing and interactive events for the public to enjoy planned to complement the works in the exhibition. Some events include artist talks, walking tours and performances by students who enjoy studies in the music and theatre departments at Florida Atlantic University.
Two upcoming special "Continuum" events open for registration include artist lectures on Sept. 29 and Oct. 27, starting at 2 p.m. each day, and artist-led tours Sept. 15 and 22, and Oct. 13 and 20, also starting at 2 p.m. each day. Lectures and tours are free to members and cost $10 for nonmembers. Space for each event is limited. To RSVP for the lectures, visit https://www.surveymonkey.com/s/continuumpresentations. To RSVP for the tours, visit https://www.surveymonkey.com/s/continuumarttour. To learn more about the benefits of membership with the Cultural Council, contact Debbie Calabria, the Cultural Council's membership and special projects manager, at dcalabria@palmbeachculture.com or call (561) 472-3330.
Rena Blades, president and CEO of the Cultural Council, calls "Continuum" a "celebration of the spirit of education in the arts."
"Many Master of Fine Arts graduates who live in South Florida continue to make a tangible impact upon the area in the arts community as volunteers, educators, curators and exhibiting artists," Blades said. "'Continuum' provided these students a chance to learn real-life skills associated with curating, installing and planning an exhibit, as well as executing public programs."
Carol Prusa, professor of painting and drawing at Florida Atlantic University, said that the council offers the right setting for "Continuum." "Providing a stimulating intellectual environment where artists can resolve their sensibility into compelling visual form is necessary for our community to remain vibrant — as art is dynamic and changes as our need for it changes," Prusa said. "The Department of Visual Arts and Art History at Florida Atlantic University joins with the Cultural Council to celebrate our connected roles to nurture imagination and promote inspiration. "Continuum" provides a mirror in which to see ourselves."
Jill Lavetsky, an artist exhibiting an original mixed-media work in "Continuum," is pleased to share the exhibitions with fellow MFA candidates and graduates of the university's program alike. Some have been awarded South Florida Cultural Consortium Fellowships.
"I'm excited to make a connection with past graduates of this unique program and to be a part of strengthening the community artists in South Florida," said Lavetsky, who is planning to graduate in 2013.
The Cultural Council is Palm Beach County's official arts agency and serves nonprofit cultural organizations and professional artists throughout the county. The Cultural Council's responsibilities include marketing the county's cultural experiences to visitors and residents, administering grants to organizations and artists, expanding arts and cultural education opportunities, advocating for funding and arts-friendly policies, and serving cultural organizations and artists through capacity building training and exposure to funders and audiences.
Admission to the Cultural Council is free and open to the public Tuesdays through Saturdays, 10 a.m. to 5 p.m. For more information, visit www.palmbeachculture.com.
Above: Students prepare to open "Continuum."