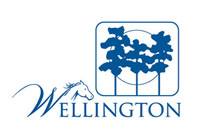 The 2013 Global Dressage Festival got the green light this week when members of the Wellington Village Council agreed to suspend revocations of plans for the Equestrian Village property — with conditions.
In a meeting that dragged on until early Wednesday morning, council members voted 4-0 to suspend a decision they made earlier this year that removed Equestrian Sport Productions' ability to hold the shows for the upcoming season.
As conditions of approval, show promoters must abide by 21 regulations, including limiting the number of spectators to 2,000, ending the show by 10 p.m. and coordinating show times with those at the Palm Beach International Equestrian Center to limit traffic.
Changes to the special-use permit process by the former council made it impossible for show promoters to apply for a conditional-use permit, Village Attorney Jeff Kurtz explained at an agenda review meeting Monday.
He noted that in February, the council made some changes decreeing that "if you want to get a seasonal equestrian use permit, and that permit is for more than two events or eight days, you have to go through the exact same process as a conditional-use process."
That, Kurtz said, would require that the Equestrian Preserve Committee and the Planning, Zoning & Adjustment Board review the issue before the council does.
"Ordinarily that process takes, at minimum, three to four months," Kurtz said.
Council members agreed to instead discuss suspending revocations on the site at Tuesday's meeting.
"I applaud the village council for their decision," Equestrian Sport Productions CEO Mark Bellissimo told the Town-Crier Wednesday. "I believe this was the right decision for the community. I felt the council took the decision very seriously. They understood the facts and distanced themselves from the rhetoric and some of the crippling conditions offered up by the Jacobs family."
Council members were asked in a letter by nearby Deeridge Farms owner Lou Jacobs to impose stricter conditions, including ending all weekday shows by 6 p.m., limiting use of the on-site barns and disallowing use of the site's derby ring for four jumping competitions.
"This not only calls for dressage events, but also for jumping events," said attorney John Shubin, representing the Jacobs family. "I don't know that we embrace the jumping events as enthusiastically as we embrace dressage."
Supporters of dressage came out by the dozens to speak on the matter, with many of them stating that they thought Jacobs was being disingenuous.
"Since when does one part-time resident dictate to council [members] the conditions they should set?" Victor Connor asked. "The Players Club is actually closer to residences. They have outdoor speakers, outdoor music and outdoor events. The village has authorized them to operate… until 2 a.m. For this council to favor a bar over a family equestrian-oriented event is contrary to everything Wellington stands for."
Resident Carol Cohen, who owns a dressage farm, lambasted Jacobs in a letter she read to the council.
"When they ran Stadium Jumping, it was well-known that they treated it as their own personal horse show," she said. "They treated dressage shows like garbage. We were deemed unimportant and always relegated to dangerous situations with our horses."
Cohen said she was hopeful when the Global Dressage Festival was created but was disappointed by the response from the opposition.
"Unfortunately, someone started to exert their power," she said. "Squad cars started to regularly harass us. The village shut the shows down on technicalities, and forced Olympic horses and riders to schlep their gear and horses to tents… This level of intimidation has now culminated in Lou Jacobs' letter dictating terms."
But several residents of Polo Island Drive told council members that the noise, smell and lights from the show grounds have been a nuisance.
"My neighbors and I would like to see it go forward in a responsible way," Alice Mueller said. "The noise that will be created by the night shows will be a problem. The odor has already been a problem for us. People are allowing their horses to defecate and not picking it up. It smells. It's unpleasant. It's not what we had in mind when we moved to the neighborhood."
Council members opted to impose the conditions suggested by staff but were split over the use of a temporary barn on the northeast corner of the site near homes.
Shubin asked that the barns be put on the southwest corner of the property, far from residences, instead of on a pad already in place. But Bellissimo said that the current location would allow for electricity and water hookups.
"The third barn is very important," he said. "Horse welfare is a huge issue for people coming here with their horses. We are set up to have wash stalls that tie into the septic system. Manure can go in and out very easily. It's set up in a way that minimizes the impact."
Bellissimo noted that the barn would be more than 200 feet from the nearest residence — almost double what Wellington's code requires. Additionally, he said, there had been few complaints last season.
"I'm very sensitive to the group that's there," he said. "If we had a lot of complaints last year, I would have said 'Maybe we have to rethink this.' But we didn't have those issues."
But Councilman Matt Willhite said that in addition to the people who had spoken out against it, he had also received an e-mail from three residents regarding the barns.
Mayor Bob Margolis said that he was primarily concerned with the third barn. "That seems to be a sticking point," he said. "The third barn seems to be hanging over everyone's head."
Councilwoman Anne Gerwig pointed out that the third barn had been used the prior season with no issues.
Willhite made a motion to approve the agreement with the third barn disallowed, which was seconded by Margolis. The motion died 2-2, with Councilman John Greene not taking part in the discussion.
Vice Mayor Howard Coates asked staff whether the third location was the best place for that stable.
"If you're going to have a third temporary tent that has access to the wash stalls so it drains into the sewer system, yes, that is a better location," Village Manager Paul Schofield said.
Coates then made a motion to approve the agreement with the third barn, which was seconded by Gerwig. It, too, died 2-2.
Willhite said he was primarily concerned that wash racks and manure bins for the third barn would not be shielded from the residences.
Bellissimo agreed to shade the barn from view with fencing, plants or other village-approved material. "We could put up a buffer," he said. "I think that would work."
Willhite requested that Bellissimo fill the two permanent barns before occupying the third barn, which he agreed to do.
Coates amended his motion to include the changes. Gerwig seconded and council members voted 4-0 to approve it, eliciting cheers from the crowd.
Greene recused himself from the issue because of his relationship with a nearby property owner. During council comments, however, he expressed his support for dressage.
Bellissimo thanked Greene for his support.
"Despite the fact that he recused himself, he reached out to me, because of his commitment to following through with his campaign promises," Bellissimo told the Town-Crier Wednesday. "I am confident that had John not recused himself, it would have been a 5-0 vote. I'm grateful for his support."