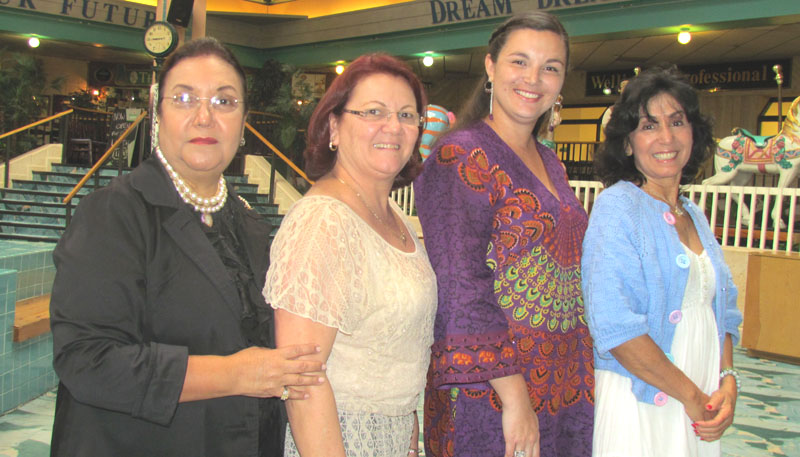 One of the greatest joys of being a grandparent is spending time with the grandkids. With busy schedules, this can sometimes be difficult.
Since 1978, the country has honored grandparents through National Grandparents Day. Celebrated every year on the Sunday after Labor Day, this year's Grandparents Day will be observed Sunday, Sept. 9. Activities will be staged throughout the country.
In the western communities, Honoring Grandparents Day will be celebrated with a children's fashion show Sunday, Sept. 9 at 3 p.m. inside the original Wellington Mall (12794 W. Forest Hill Blvd., Wellington).
This is the second year that a group of four women — Tenchy Salas and Nancy Bisquerra of Portada Florida and Nimia Cartaya and Evelyn Giraldo of Nimia's Creations — have organized the show. This year's theme is the Varadero Collection, reminiscent of 1950s Cuba.
"Nobody does anything for grandparents," said Salas, president of Portada Florida, a magazine for the Latin community.
The fashion show is a way to showcase grandchildren, boys and girls ages 3-12, in fashionable clothing while their grandparents look on. Salas came up with the idea after realizing the importance of the bond between grandparents and their grandchildren.
"I just became a grandma, and my granddaughter just turned 2, and I did not know it was going to be so exciting," she said. "I knew it was going to be nice, but it really is an important connection. Whatever a grandchild does for you, it really is very special."
With help from Cartaya, owner of Nimia's Creation, a children's clothing store in Lake Worth, Salas was able to develop the idea from concept to completion. "I reached out to Nimia because she interprets very well what the Latin community likes about dressing children up," she said.
This year's fashion show will be large, with more than 50 children already signed up. Nimia's Creations will be providing the clothing for the fashion show that will be available for purchase.
Unlike last year's event, there will be only one wardrobe change for this year's fashion show. "We understand and don't want people to have to worry about buying more than one outfit, especially if they have more than one child in the show," Giraldo said.
Proceeds will benefit Autism Speaks.
"We will have the representatives from Autism Speaks at the front entrance," Salas said. "Then we will have a table for the judges of the fashion show, [who] will be four sets of grandparents."
The judges will choose three outstanding children as winners who will, along with their grandparents, be presented with prizes. "We are also coming up with other ways for the children to honor their grandparents with something special," Salas said.
The event will also include raffles, a silent auction, music and entertainment, and a performance by the Fred Astaire Studio exhibition dancers.
There will also be a guest appearance by Miss Princesita, a popular figure with young Latinas. "She is going to be a guest of honor and will come down with her court of girls," Salas said. "That is going to be a highlight."
In keeping with the theme of the show, the children will begin the event with a choreographed routine to the song Guantanamera.
Salas hopes that this event will be a way for all grandparents to share a special moment with their grandchildren.
"This is not just for Latinos; this is open to everybody," Salas said.
To register for the fashion show, do so in person at Nimia's Creations (2509 N. Dixie Highway, Lake Worth). To be a sponsor or vendor, e-mail editorial@portadaflorida.com. For more info., call (561) 255-0549 or (954) 655-8820.
Above: Event organizers Tenchy Salas, Nimia Cartaya, Evelyn Giraldo and Nancy Bisquerra.