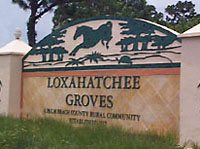 The Loxahatchee Groves Town Council approved a capital improvement budget Tuesday including $500,000 to plan for a future town hall and $200,000 for trails.
During council members' discussion of capital improvement plans, Town Manager Mark Kutney explained that capital programs are generally projected out several years to give council members a general idea about the future. "Some cities will have a separate CIP, he said. "We are combining it with the rest of the budget."
Bill Underwood of Underwood Management Services Group, the town's management contractor, said capital project allocations would not be spent until they are addressed by the council in greater detail and approved.
Councilman Tom Goltzené said he wanted money for linear parks in the budget, but it was not included. "Nobody discussed it with me," he said. "I thought it was a worthwhile project. I'm disappointed."
Councilman Ron Jarriel said he would like to see something set aside for equestrian trails. "I have nothing against linear parks, but am concerned about who pays for it," he said, adding that he is also concerned about park maintenance costs.
Goltzené said that the scale and maintenance for linear parks would be much less than conventional parks. "They are designed to be paid for entirely by the developer, and improve water retention," he said. "We made a commitment to the people we were going to do this."
Jarriel said he'd be willing to set aside $200,000 for trails, as opposed to linear parks. "I have nothing against linear parks, but if you're talking trails, $100,000 is nothing," Jarriel said. "We've got the money, and we need a budget for it."
"I'll certainly second that," Goltzené said, pointing out that $250,000 had been included for a traffic light on Okeechobee Blvd. "I opposed it. Okeechobee is a county road, and I would like to see them pay for it rather than us."
Jarriel added that he strongly favors the light on Okeechobee Blvd. He also said that he will be meeting with Commissioner Jess Santamaria to seek help with funding.
Goltzené said in light of recent disagreements with the town office's landlord, he said he understood budgeting $500,000 toward a future town hall, but said he thought they'd be better off borrowing money with the current low interest rates. "We don't need to pay that kind of money for that kind of facility."
Jarriel said he favored having money in the capital plan for a town hall. "Just because we have $500,000 budgeted doesn't mean we will spend it," he said. "When I talk about spending $500,000, it is not the council, but a resident decision. We need to be working on it while the prices are right."
Councilman Ryan Liang agreed that they should set aside money for equestrian trails, move ahead on the traffic light and start the search for a town hall.
Vice Mayor Jim Rockett said he understood that the capital budget is tentative, but he was not interested in spending that type of money on a building. "If we find a project that is worthwhile, we will go ahead and do it, [but] I'm not going to support $500,000 for land unless it's 500 acres," he said.
Mayor Dave Browning said he would like to build a hardened structure on water control district property and possibly take over the retention area to the north. "Then we've got a location everybody is used to," he said.
Browning added that he would like to see if the town could work something out with the current landlord for the short term.
Kutney said he had been working toward a new office location since the conflict erupted with the landlord several months ago.
"I've been talking to Realtors and landowners," he said. "I'm trying to potentially get the best deal I can."
During public comment, former councilman Dennis Lipp said he got a call from a resident suggesting he contact the landlord, Kan Yee of Yees Corp, about the rental agreement for the current town hall office, located in the Palms West Plaza. Lipp said Yee had told him he would agree to a five-year lease at $1,550 a month with additional space.
"I think we have a solution," Lipp said. "There is time for us to take control of the situation."
Jarriel said he'd like to negotiate with the landlord for a short-term solution and asked for consensus for Lipp to meet with the landlord. "Since you talked to him, I would like to see that written up," he said.
Lipp said he thought it would be more appropriate for the mayor to do it.
Rockett said he agreed but did not want to lose sight of a permanent place for town government in the future. "If we can negotiate a five-year lease, OK, but I don't want to turn management away from looking for another facility," he said.