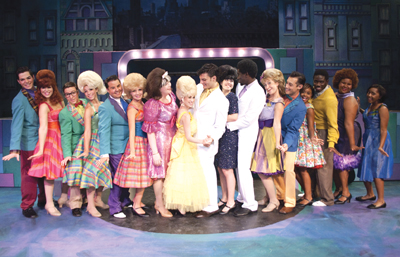 The award-winning hit Broadway musical Hairspray wrapped up its four-week engagement on Sunday, July 29 with another sold-out show at the Lake Worth Playhouse.
It was no wonder, as this production was the Theatre Chat top pick for Best South Florida Musical of Summer 2012.
With the vision of Artistic Director Jodie Dixon-Mears, Director Clayton Phillips and Choreographer Lawrence Street, the show transported the audience back to the 1960s. The band was led by Musical Director Dominic Raffa, and the set was designed by Cindi Taylor.
This summer's show leads the Lake Worth Playhouse into its 60th season with a great range of musicals and comedies to celebrate this milestone.
For more information about the upcoming season, or about auditioning for one of the shows, visit www.lakeworthplayhouse.org.
Above: The cast of Hairspray at the Lake Worth Playhouse.