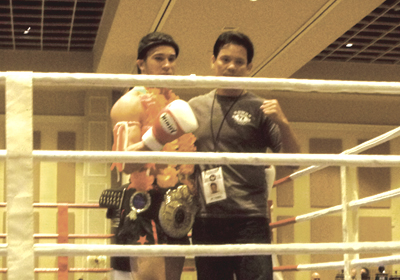 Bowon Muay Thai Academy has announced that its very own Matthew "M.J." Holland is now the 2012 IKF World Classic Super Welterweight Amateur Muay Thai Champion. The championship event is held once a year in Orlando, with competitors from all over the world converging to compete in the three-day Muay Thai/kickboxing tournament.
Holland has been training and fighting for approximately four years under Kru Alan Bowonthamachakr, a professional Muay Thai instructor and owner of Bowon Muay Thai Academy.
The Bowon Academy staff is proud of Holland for his hard work and dedication. And now Holland's dream of becoming a professional Muay Thai boxer is another step closer to becoming reality.
Bowon Muay Thai Academy is an authentic Muay Thai training facility in South Florida. It is located at 3132 Fortune Way, Suite D-7, in Wellington Commerce Park. For more information about the academy, call (561) 313-2419 or visit the Bowon site at www.bowonmuaythai.com.
Above: M.J. Holland celebrates his win with Kru Alan Bowonthamachakr.