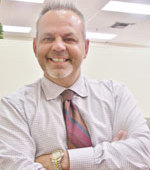 Howard Scott Hyber of Wellington passed away July 7. He was 53.
Born in Queens, N.Y., he moved to Florida in 1997 with his family. He graduated from Baruch College at the City University of New York and started a successful career in sales and marketing, developing his own marketing and advertising agency. Hyber was named Ambassador of the Month by the Central Palm Beach County Chamber of Commerce working as associate publisher.
Hyber was an ambitious professional and a loyal business associate to all who had the honor of interacting with him. He was also a dedicated family man who loved his wife and sons and would take every opportunity to share their accomplishments with friends and co-workers.
Hyber was an inspirational husband, father and friend and was always there to reach out to anyone in need. He was an avid sports fan and was well versed on the latest happenings with his favorite teams, such as the Mets, Jets, Knicks and Rangers.
Hyber is survived by his wife, Beth, sons Jason and Josh, as well as his parents. A memorial service was held on July 11 at Star of David Funeral Chapel of the Palm Beaches.