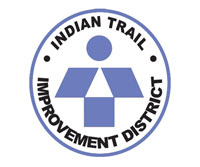 Several Acreage residents complained about low water levels in area canals at the Indian Trail Improvement District meeting Wednesday.
Residents said the water quality in their wells is being affected and that they are concerned about possible failure of their septic tanks. Another concern is for the quality of the water in the canals, many of which are largely dry.
Former ITID Supervisor Penny Riccio said the canals are filling with sand and weeds.
"The canals have trees growing on the banks and are not mowed," Riccio said. "The canal banks have deep grooves in them from rainwater running down from the tops to the water line… The water levels are being kept below historic levels."
Several other residents also complained about low water levels.
The issue had been brought up by Riccio previously, and District Engineer Lisa Tropepe addressed the topic at the board's direction.
Tropepe said the water levels are maintained in accordance with the district's permit from the South Florida Water Management District. From a historical perspective, Tropepe said the current policy came out of two big flood events in The Acreage in 1995 and 1999 that the district is trying to avoid happening again.
"In 1995, 25 inches of rainfall fell in this area," Tropepe said. "There was damage of approximately $50 million; 1,200 homes were flooded," she said. "The Acreage was significantly impacted by the storm and ultimately declared a FEMA disaster."
The 1999 storm was in January, in the middle of the dry season, she said. "There were 18 to 20 inches of rain that fell in northern Palm Beach County. Some of you may remember the National Guard had to visit to get people out of their homes. The Acreage was not a very flood protection-friendly place back then."
When her firm, Engenuity Group, became district engineer, a huge effort was made to prepare water elevations to SFWMD specifications in order to protect residents.
Tropepe said the district is still limited as to the amount of stormwater it can discharge, explaining that it is restricted to a quarter-inch of discharge per day to the L-8 Canal. The C-51 Canal, central Palm Beach County's main drainage canal, can be utilized only under specific circumstances. The M1 Basin impoundment of about 700 acres is used to store stormwater runoff and control discharge to the L-8 Canal.
Tropepe said that under the SFWMD permits, the canal levels are kept high in the dry season from November to May and low in the wet season between June and October. She also showed a letter from the SFWMD dated Aug. 6 indicating that the canals have been operating appropriately and in compliance with its permits.
Supervisor Jennifer Hager, who lives on Orange Blvd. near the Pond Cypress Natural Area, said she lives near a canal and has been watching the levels fluctuate as much as a foot and a half in a few days.
Tropepe said the system is slow-moving overall. "Those of you who have canals behind your property, which is a lot of you, may think this is a fast-moving system because elevations are moving up and down," she said. "The reality is the system as a whole is slow-moving because there is 88 square miles of property that needs to have proper flood control."
Tropepe said the whole effort is a balancing act. "With flood protection on one side, you have fire protection on the other side," she said. "When the team put forth the operating elevations, we took into consideration many things."
Supervisor Carol Jacobs said she thought the water levels in the canals need to be kept a little higher unless there is a major storm coming in their direction. "We need to watch this because we are on wells and septic," Jacobs said. "We have to keep these levels good or we're all going to be on city water."
Damone said she would like to gather more information on the water levels and other concerns such as maintaining a balance of vegetation and marine life, but was satisfied for now that the SFWMD had indicated the district is complying with its permit.
Tropepe pointed out that the SFWMD letter also noted that the water levels seem to be routinely maintained somewhat higher than the minimum allowable levels.
Supervisor Ralph Bair noted that the SFWMD also does independent monitoring of the water levels. "They are making the same judgment based on what we see," he said, pointing out that the M-1 reservoir fills up very quickly and that when it starts raining, the district is required to stop pumping. "The canals we have to pump to become swelled by other people pumping into them. We could inundate those canals in no time."
Resident Patricia Curry said she had been telling the board for years that the water levels were being kept too low. "I have been telling you for years too much water is being taken out of the canals," she said. "What it means when the canals are empty is ground water levels are extremely low."
Resident Michelle Hardy said that she has lived for 13 years near the M-2 pump house, which had been running for three days nonstop. "It smells and it is loud," she said. "The water level is making our well water bad. Way too much water is being pumped out. I really think something needs to be done."
Director of Maintenance & Operations Anthony Las Casas said the district water levels are being maintained in compliance with the SFWMD. "We are aware that the system can react very quickly to a storm event," Las Casas said. "In October of last year, I saw firsthand how fast the waters came up. We almost had road flooding in the lower basin, but we were able to keep that under control."
He reiterated that the system has operated within the parameters of the SFWMD permit. "If someone wants to modify that permit, or specify operation protocol other than what is being done, that's fine with me," Las Casas said. "I have no incentive to over-pump a system."
In the end, Damone said that ITID staff will return with a more complete report on the situation. "We have had a healthy discussion," she said.