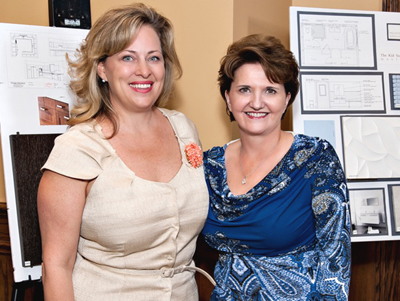 On Wednesday July 18, local interior designers and related businesses convened at PGA International to unveil their room themes by displaying storyboards for the first KidSanctuary Campus home. The home and its interiors will be complete by late November with a Designer Showcase Open House Dec. 1-2 at its location at 555 Safe Haven Drive in West Palm Beach.
KidSanctuary Campus Inc. is a charitable organization located in Palm Beach County committed to assisting children who have been removed from their home because of neglect and abuse. With land donated by Palm Beach County, and a capital campaign currently in place, the 5-acre residential facility broke ground with its first home on Oct. 5, 2011. The J.M. Rubin Foundation has sponsored the first house to be named the Rubin Cottage. The second home has been sponsored and the ground breaking is estimated to take place in February 2013. The second home will be named the Dodero Family Cottage. The capital campaign will continue to raise the necessary funds for the construction of two additional homes and a recreational/therapy building.
"A roster of our area's top designers and vendors have come together to offer their services to create a spectacular design showcase that will be a safe haven for children who deserve an environment that is trustworthy, dependable and reliable," said Connie Frankino, president of KidSanctuary Campus. "With the construction of the first house nearly complete, we are excited about moving toward the interiors of the home, and seeing each of the designer concepts tonight really helped bring the vision to reality. We are thankful for everyone's philanthropic efforts that will impact so many children for years to come."
Design Chair Angela Reynolds said the evening was an "opportunity to meet and share our vision by displaying concept boards for everyone to see. It was special to hear the designer's enthusiasm as they explain how the kids will relate and function in the space. The designers went that extra mile to create a magical space for the children. The dining room has a Dr. Seuss theme, one of the bedrooms has a modern wooded theme, and the living room was so over the top fabulous. At the reception we realized we had collaborated to create something amazing, and we all had goose bumps while we all shared our vision."
Participating designers include Angela Reynolds Design, Austin Hancock, Carousel Kitchen and Bath, Cynthia Thomas Interiors, the Fava Design Group, Jack Phillips, JMA Interior Design, Joseph Pubillones of JP Interiors, NGX Studio, Melody Smith, Jacquelyn Armour, the Sunflower Room, Chelsea Lane Designs and Home Life Interiors. Throughout, each designer has been able to work with local and national vendors who have donated items for the house. Companies offering product and services include Around the Edge, Artistry Woodcraft/Knapp Kitchens, Brooks Painting, Ceramic Technics/Iris Ceramica, Ferguson, the Glass Tile Store, Haifa General, Max Urban Millwork, Onshore Construction and Design, Porcelanosa, and Wallpaper by Wendy.
KidSanctuary Campus Inc. is a not-for-profit organization committed to providing a safe home for abused, abandoned and neglected children in Florida. The mission for Kid Sanctuary Campus is to ensure that each child receives the benefits of a sense of belonging and permanency in a caring and positive environment that nurtures self-esteem and hope.
For more information on KidSanctuary or how to donate to KidSanctuary Campus, contact Executive Director Patrick DeSantis at (561) 653-8274 or patrickdesantis@bellsouth.net.
Above: Design Chair Angela Reynolds and KidSanctuary President Connie Frankino.