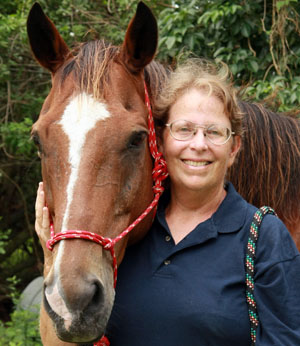 TAILS FROM THE TRAILS
If you're interested in both riding and beauty pageants, Chelsea Chilcutt wants to hear from you. She's in charge of the upcoming Miss Rodeo Palm Beach County competition, scheduled for Oct. 13 at the Jim Brandon Equestrian Center, a preliminary event for the larger Miss Rodeo Florida and, ultimately, Miss Rodeo America pageants.
Chilcutt, who lives in Loxahatchee, has been competing in both horse shows and beauty pageants since she was little.
"I've been riding my whole life," Chilcutt said. "My mom, Vicki Moore, has horses, so I just grew up with them. I started out riding English, but then decided that wasn't my thing, so I switched to Western pleasure and barrel racing."
She started in beauty pageants at a young age. "My mom started me when I was little. I was Baby Miss Oklahoma in 1986, and it just kind of grew from there," Chilcutt said. "I enjoy doing both. Riding is great, of course, and the beauty contests are a great experience. I really like the community involvement aspect, where if you win, you get to participate in all sorts of events which help out organizations."
Pageants also helped her attend college. "I was the Florida Cinderella Woman for 2009-10. I won a scholarship which helped me attend FAU and Palm Beach State College, and I also was their representative at all sorts of charity events, like Project Lifesaver, Relay for Life and the Siberian Husky Rescue," she said.
That year was a good one for Chilcutt. She was also the high-scoring rider in the Acreage Horseman's Association 4-D Barrel racing circuit and won the trophy saddle.
"This contest is unique, because it combines horsemanship with a beauty contest," she explained. "Although this contest is a preliminary for the Miss Florida Rodeo competition, it is not directly connected with them or with Miss Rodeo America. We follow their guidelines, and the winners can go on to compete in Miss Florida Rodeo. Then those winners move on to the Miss Rodeo America pageant."
Even though this contest is for Miss Rodeo Palm Beach County, contestants don't have to live in Palm Beach County. "It's open to anyone from anywhere in the state," Chilcutt said. "Last year it was held for the first time, and we had 23 entries. This year, I'm hoping more people will give it a try. The entry deadline is Oct. 6, but if someone enters before Sept. 8, there's an early-bird special of $10 off."
The entry fee is $60. The four major divisions are 0-35 months, which competes in Western Wear and Photogenic; 3-6 years, which competes in Western Wear, Onstage Questions and Photogenic; 7-9 years, which competes in Western Wear with Onstage Question, Closed Interview and Photogenic; and 10 and Up, which also adds Horsemanship. Anyone in any of the 10-and-up contests competing in horsemanship must be members of the Palm Beach County Mounted Posse organization, which is helping to present the event.
"For the Horsemanship portion, competitors will ride a set pattern," Chilcutt explained. "You can use your own horse or borrow one. The judging is based on general riding skills, showmanship and pattern execution. The interviews are short and let the judges see how well you speak and hold a conversation. Photogenic awards are based on a submitted 5-by-7 color photograph. The overall appearance should be neat and consistent with appropriate Western attire, including any brand of jeans, a long-sleeved shirt, Western boots, hat and belt."
Chilcutt stressed that pageants are not like what is shown on TV.
"This is a natural pageant. It's not at all glitzy, nothing like the contests shown on the TV show Toddlers and Tiaras. The judges will be looking for contestants who are personable and comfortable in their own skins, and who know how to handle a horse quietly and professionally," she said. "They'll be looking for an nice overall appearance of both horse and rider."
Overall Division Queens will win a crown, a sash and a paid entry to the Miss Rodeo Florida pageant.
Last year's winner in the 7-9 age group, Sweetheart Miss Rodeo Palm Beach County, was Claisyn Crampton from Ocala.
"We drove down and attended the competition, which was held at the Nicole Hornstein Equestrian Park in The Acreage," said J.J. Crampton, Claisyn's mother. "It was a really fun opportunity and a nice venue. Claisyn competed in Western Wear, Interview and Photogenic. It was wonderful for her, and built up her confidence and self-esteem."
Crampton said the experience has been useful to her daughter.
"That kind of experience carries over into a lot of other situations, even something like handling nerves on the first day of school," she said. "Children competing in this kind of event can apply what they learn in a lot of different ways. Claisyn has made many public appearances at a lot of shows because of her title. She has grown a lot. She has to give up her title this year, and I think she'll go through withdrawal until she can compete again next year in the 10 and up division. I'd highly recommend this pageant to anyone who loves shows and horses. Chelsea did a great job. It was well-run and very organized, and she provided Claisyn with a lot of community service opportunities during the year."
"I'm really looking forward to this year's contest." Chilcutt said. "It should be a lot of fun. It will start at about 9, and go until it's over. Admission is free, so everyone is welcome to come out and watch. It should definitely be a fun community event promoting equine sports and rodeo."
For more information, or an entry form, call Chilcutt at (561) 352-4225.