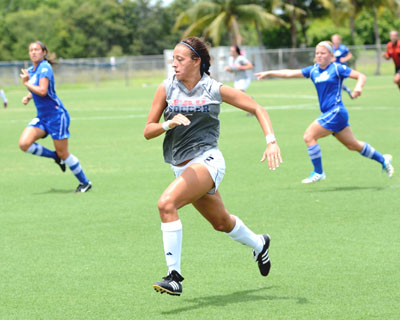 By Gene Nardi
Florida Atlantic University women's soccer team took the field in a pre-season friendly Saturday, Aug. 11, hosting last year's conference champions, Florida Gulf Coast University.
Both teams play in the Sun Belt Conference. Last year, the Lady Owls fell to the Eagles 4-0. This year, the outcome was slightly different. FAU played the defending champs to a 0-0 draw. They out-shot the Eagles 8-4, but fell short in the PK shootout 4-5. The FAU squad has several new players added to its roster.
One is a local player Natalia Hernandez of Wellington. Hernandez was a 2012 graduate of Palm Beach Central High School and was a member of the varsity girls soccer team. Hernandez was last year's Sun-Sentinel 5A-4A Player of the Year, having found the net 39 times in 19 games and helped the Broncos earn a District 9 runner-up position.
Hernandez, an education major, chose FAU because she immediately became fond of Owls head coach Brian Dooley. "FAU is close to home, and my mom can come to all the home games," Hernandez said.
Hernandez also said that soccer at the college level is more competitive, and the training is more intense; weight training and conditioning are both a large part. She said she was able to make a smooth transition from the high school game to the college level because she trained most of the summer, running and taking shots on goal. She hopes to be a contributor to the team's success as a freshman.
For aspiring high school athletes who desire to play at the next level, Hernandez has some advice. "Mentally prepare yourself, train hard and play harder," she said.
Dooley said this was the first time to see the ladies play together against a different team, and it was a good opportunity to evaluate the players to see what needs to be worked on before the season starts. Dooley mentioned the athletes only get 16 days to prepare as a team before their first game, which is an NCAA rule. Dooley also stated they have higher expectations from their new players. "We just need to clean up some of our decision making," Dooley said, after the 0-0 draw. "We need to put goals on the scoreboard."
Dooley was impressed with Hernandez. "She's a top athlete, a hunter," he said. "She's relentless to the ball and the net. We're still trying to see where we're going to play her. She started at left outside mid today, and we worked her in at forward as well."
The FAU women's soccer team's first home game will take place Friday, Aug. 17 at 7 p.m. against Jacksonville.
Above: Natalia Hernandez sprints up field for a pass.