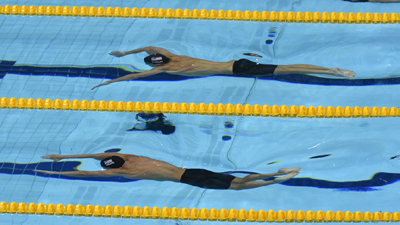 Palm Beach Photographic Centre President and CEO Fatima NeJame has announced that two very timely exhibitions — "Olympix 2012" and "FOTOcamp Memories 2012" — will open Friday, Aug. 24 at the nonprofit museum located within City Center in downtown West Palm Beach.
"Olympix 2012" features photographs from the London Olympics by Adam Stoltman. Just days after the flag-waving, pride-filled closing ceremony of the Summer Olympic Games, the Palm Beach Photographic Centre is presenting an incredible exhibition of images captured in London by Stoltman, a renowned sports photographer and PBPC instructor. An incredible photographer whose work has appeared in Sports Illustrated, The New York Times and its Sunday magazine, Time, Newsweek, and a host of other publications, Stoltman has covered 11 Olympic Games.
"I photographed my first Olympics in Lake Placid in 1980," Stoltman said. "I was 20 years old, had $50 to my name. I slept on floors and, as I was not accredited, I scrounged tickets to be able to photograph; but by the end of the games, I had secured a few significant assignments. In 1984, I covered both the Winter Games in Sarajevo and the Summer Games in Los Angeles working for Newsweek magazine, and have covered eight other Olympics since then."
Stoltman added that each Olympics "is a little different in terms of news, personality and experience yet the passion of the athletes, and the scope and grandeur of the spectacle is a constant. It is impossible to attend an Olympics without being affected by the spirit of the event, heart of the competitors, the obvious pride of the host city and the diversity of competitors and media from all corners of the globe. The new images from London reflect my own small participation in this grand tradition, and my belief in some of the ideals the games aspire to represent."
"FOTOcamp Memories 2012" features impressive works from budding photographers between the ages of 9 and 17 who attended FOTOcamp 2012 at the Palm Beach Photographic Centre. The three FOTOcamp sessions in June and July attracted nearly 50 young participants who were given hands-on experience in all areas of photography, beginning with the basics of picture-taking using SLR digital cameras and progressing to state-of the-art digital imaging.
The Palm Beach Photographic Centre will host an opening night reception Friday, Aug 24 from 6 to 7:30 p.m. During the reception, one talented FOTOcamper will be named Student of the Year and receive a free SLR digital camera. The public is invited to attend this free event.
The Palm Beach Photographic Centre is located at the City Center municipal complex at 415 Clematis Street in downtown West Palm Beach. Hours are 10 a.m. to 6 p.m. Monday through Thursday and 10 a.m. to 5 p.m. Friday and Saturday.
For more information about the exhibitions, call (561) 253-2600, or visit www.workshop.org or www.fotofusion.org.
Above: Adam Stoltman's photo of Michael Phelps and his teammate, Ryan Lochte, competing in the 200-meter individual medley.