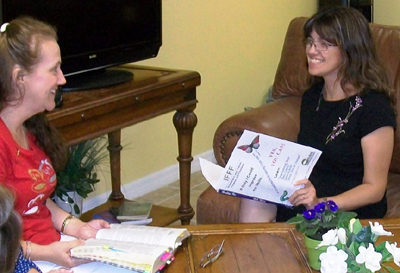 Oasis Compassion Agency has been awarded a grant from the Jim Moran Foundation for its Career Center and Women's Center operations. This is the Jim Moran Foundation's first grant to Oasis, which helped 700 families get back on their feet in the past year through its holistic, self-help program.
The $80,000 grant ($45,000 accessible this year and $35,000 next year) will fund the essential position of the case manager, who qualifies and works with the clients to determine a course of action for success, and a part-time women's center coordinator, who will ensure the effectiveness and operation of the program.
"Through our partnership with Oasis Compassion Agency, we are able to reach women and families in crisis and help stabilize their current circumstances, while offering comprehensive services to equip them to overcome life's hardships," said Jan Moran, chair and president of the Jim Moran Foundation.
Oasis, now in its ninth year of assistance, helps its central Palm Beach County clients stabilize and improve their economic circumstances with a three-pronged approach in which roadblocks to success are identified, a plan is created to overcome those obstacles, and that plan is implemented. Oasis assists its clients with food and clothing while requiring clients to attend job counseling as well as other counseling and/or classes in personal finance, computers, typing, nutrition and others.
Founded by automotive pioneer Jim Moran, the mission of the Jim Moran Foundation is to improve the quality of life for the youth and families of Florida through the support of innovative programs and opportunities that meet the ever-changing needs of the community. To learn more, visit www.jimmoranfoundation.org.
Above: Women's Center Coordinator Mabel Leon (right) coaches her client through the program "Investing in Your Future, Finances and Finesse."