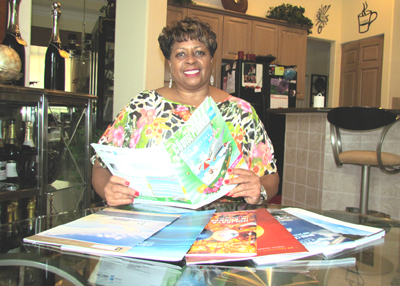 With an over-saturation of information on the Internet, planning that perfect vacation getaway can be a tedious task. The time-consuming process of filtering out what fits your needs, especially when it's for a large group, can sometimes make people settle on an unsatisfactory trip. That's where Cruise Planners comes in.
Company owner Valerie Dorsey has more than 30 years of traveling experience throughout the world and can assist in making your planning experience as pleasant as possible.
Dorsey, a former pharmaceutical representative and registered nurse, retired in 2010 and decided to pursue her love of traveling and vacation planning. She opened her Cruise Planners franchise in June 2011.
"I always loved to travel, so I decided to look around and find a travel job," she said. "Someone suggested Cruise Planners, and I looked into it and really liked them because they're an American Express company."
Dorsey is based at her home in Royal Palm Beach and runs the business by herself. "This is like living your dream," she said. "It's a job because I have a lot of studying and learning to do about tours and various cruise lines, but it's a pleasure because I interact with people all day and help them fulfill their dreams, so that makes it a lot of fun."
As an experienced world traveler, Dorsey provides her clients with detailed information about many of the popular destinations. Some of Dorsey's travels include most of Europe, the Caribbean, Singapore, Thailand, Greenland, Iceland and Hong Kong numerous times. Being in the Air Force Reserves in the 1970s is what commenced her tendency for travel. "Ever since then, I've been traveling, and I really have a love for it," she said.
Most of the planning is done over the phone. If a client wants to meet with Dorsey, she arranges a meeting place and time. "Many agents are now home based because of the overhead of having a building," she said. "What you want to do is talk to people and understand what they want, and you can do that by being a home-based agent."
When initially speaking with a client, Dorsey asks questions to find out what their wants and needs are. "Sometimes people don't know they can achieve things sooner than later," she said. "So I like to help them find out whether they can actually achieve their vacation dream."
In Florida, cruising is one of the most popular vacationing trips.
"I do my fair amount of talking to people to find out what would be the right ship to put them on for their personality," she said. "Each ship, although they might sail to the same places, their personalities are quite different."
Dorsey is also knowledgeable about river cruises. "Recently I've also gone on some river cruises both in Europe and America," she said. "So those are experiences I've become very passionate about and want to share with people for their next trip."
After finding out all the particulars of a client's vacation, Dorsey researches, compiles and presents two to three trip options. "Then we narrow it down and focus on the one they would really like to do," she said.
Dorsey is also experienced in organizing groups, from collecting payments to insuring the group gets extra amenities. "I work with different types of groups, some that I would lead, and some that I help people put together," she said.
Dorsey can help clients with almost every type of vacation package from cruises to vacation home rentals. "The only thing we can't do is individual airline tickets, but other than that, the sky is the limit," she said.
For more information about Cruise Planners, visit www.charmedvacations.com or call (561) 383-7774.
Above: Cruise Planners owner Valerie Dorsey looks through travel magazines at her home in Royal Palm Beach.